These Migrant Women's Gut-Wrenching Letters On Being Detained Put You In Their Shoes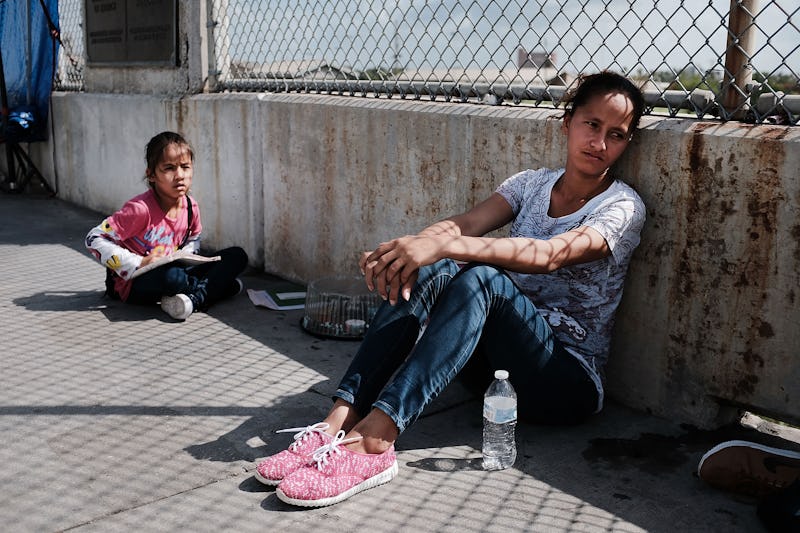 Spencer Platt/Getty Images News/Getty Images
In often gut-wrenching narratives, detained migrant women are speaking out about the heartache caused by the Trump administration's policy of separating families apprehended at the border. Letters from more than a dozen migrant women currently being held in immigration detention centers are being made public by the nonprofit human rights organization Grassroots Leadership. Written by women detained at the T. Don Hutto Residential Center in Taylor, Texas, the letters give readers a glimpse into life inside an immigration detention facility and the anguish and distress that plagues a mother torn away from her child.
"I was separated from my son. I am desperate," one woman wrote. " I've been separated from him since May 14 and no one will give me any information about where he is... Help me, I am distraught, I feel helpless trapped in here unable to do anything for my son. Help. Help. I can't go on like this anymore."
Grassroots Leadership has recently published a total of 18 letters — some addressed to Grassroots Leadership organizers and others addressed to the women's children — which were written by 16 migrant women currently being detained in Texas. According to the nonprofit, the motivation behind each letter varied; some were attempts to shine a light on the conditions inside detention centers, others were simply desperate please for help.
"They were written to tell their experience publicly, to ask for help in being released from detention, and reunited with their children," Bethany Carson, an immigration policy researcher and organizer for Grassroots Leadership, told CNN.
According to the nonprofit, multiple woman told organizers that staff at the T. Don Hutto Residential Center had told them that "all women separated from children at the border" would soon be transferred to a military base "as a first step to deporting them." In a blog post published last week, Grassroots Leadership said attorneys and advocates working to help the women feared immigration authorities would "coerce" the women into signing voluntary deportation orders in order to be reunited with their children sooner.
"The guard told me to get on the bus because I was going to another detention center," another migrant woman, who said she turned herself and her 15-year-old son into immigration authorities after crossing the border, wrote in a letter. "I asked for my son and they told me, 'Lady, your son isn't here. He's very far away. You are getting deported back to your country' and I started to cry and I begged them to give me my son and the guard told me, 'don't make me give you an electric shock'... I've gone for 23 days without hearing anything about my son. I'm distraught, please help me. This is the worst thing that they could have done to us."
Grassroots Leadership has redacted any information that might serve to identify the women and their children, such as their surnames. In some cases, the women's first names were also redacted on request.
Although many of the women write simply to express their heartache and concern and to ask for help in obtaining information about their child's whereabouts, some of the women's letters also offered brief glimpses into life in a immigration detention center. "I was then transferred to McAllen, the dog pound, as they call it," a woman identified as Yasmin wrote. "I was there for seven days without showering or brushing my teeth. I ate bread with cold cut processed meat and a juice for every meal."
The dog pound or kennel is the unofficial nickname given to the Border Patrol processing facility in McAllen, Texas, according to the Nation. The name is a reference to the chain link fences used to "cage" the migrants in.
In a separate letter, another woman describes having a similar experience at the facility in McAllen. "They move me to the dog kennel..." she writes. "I was very worried, eight days without showering, without my medicine, I thought that I would get sick."
A number of the women claim they were lied to by immigration authorities who'd told them they would be separated from their children for only a short time. They described the anguish of not only the forced separation but also of being given little to no information about their children.
"There are moments I swear I feel am going crazy and I hope that if any of you is a mother, you could understand the pain that we are feeling because they have ripped away the most wonderful thing God has given us, which is our children," a woman, who said her 7-year-old daughter and 10-year-old son were taken from her early last month, wrote. "I am one of the mothers that is running away from their own country because they threatened to kill me and my children, and that is why we ran away, but here they killed us alive by taking away our children."