These 'Life-Size 2' Photos Will Make Fans Feel Nostalgic On So Many Levels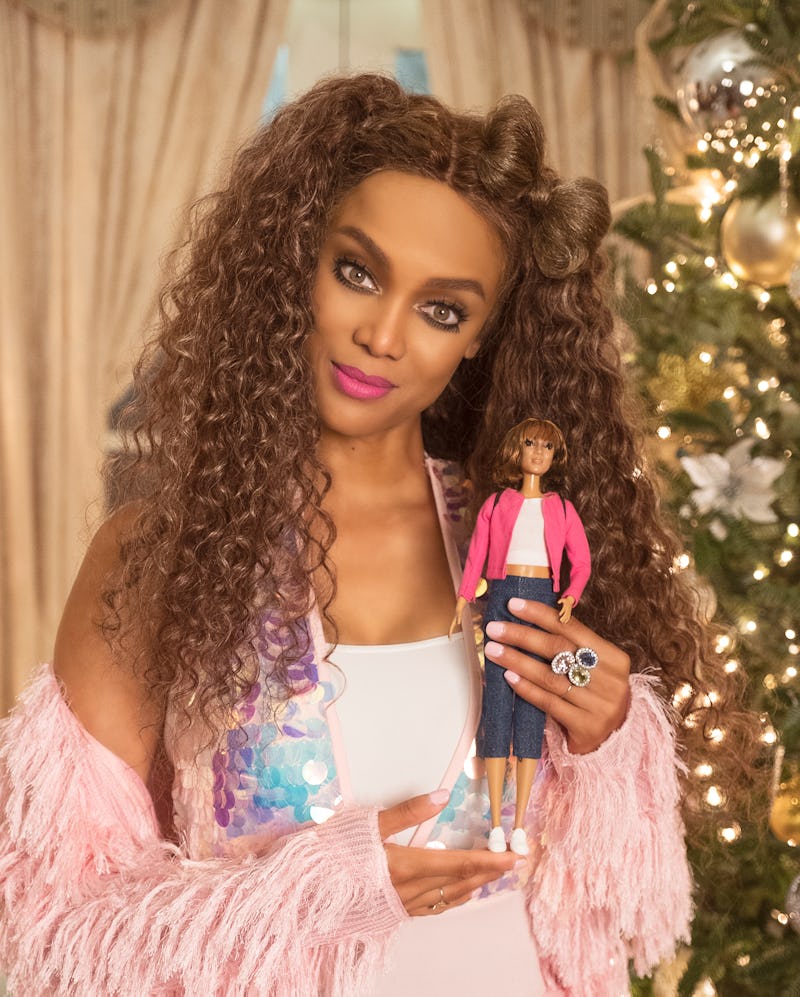 Freeform/Guy D'Alema
Eighteen years later and Eve is shining brighter than ever. On Friday, Freeform released the first Life-Size 2 photos, and they'll make fans feel all kinds of nostalgia just in time for the holidays. Tyra Banks' Eve still seems to be her eclectic, unique self and she's totally embracing the holiday spirit. Whether gathered around the Christmas tree or dressed head-to-toe as a peppermint stick, Eve is about to give a whole new meaning to Christmas cheer.
Also starring Francia Raisa, the return of Life-Size has been anticipated by fans for months now. The sequel, premiering Dec. 2 during Freeform's annual "25 Days of Christmas," comes nearly two decades after the original film (starring Lindsay Lohan) premiered on Disney Channel in 2000. Although Eve has clearly blazed her own trail since her time with Casey (Lohan) and her dad Ben (Jere Burns), she hasn't forgotten where it all started. (Check out the photo above, where she's holding one of the very original Eve dolls.)
While few details about the Life-Size 2 plot have been revealed thus far, the released photos raise even more questions. For one, who are the kids Eve is by the Christmas tree and on stage with?
And who is she speaking with here, looking completely engaged and ready to drop some unmatched Eve wisdom on?
If one thing's for sure, it's that fans will be thrilled to see that Eve's fashion is still fabulous, bold, and totally her.
In July, Freeform revealed few details on what Life-Size 2 will be about. The network shared that Raisa will play Grace Manning, "confident and funny CEO of Marathon Toys, a huge toy company started by her mother that is most famous for manufacturing the iconic Eve doll." However, Grace is dealing with her fair share of issues that hopefully the real-life Eve will help her sort out.
Freeform further revealed: "Grace is also notorious for her drunken exploits that wind up on the front page of the tabloids and cause the company's stock to plunge on a daily basis." Grace's love interest will be played by Gavin Stenhouse and her best friends are played by Shanica Knowles and Hank Chen.
In September, Raisa explained why she was so excited about the movie. "Because Tyra Banks is in it. That's why. It's awesome already because of her," the actor told Hollywood Life. Plus, the sequel will be holding onto its core element which made the original so great. "I haven't seen it yet, but I'm very happy with the results, and I hope everyone else is, too... It's not like there's a new doll. I think that if there was a new doll, then I would be boycotting it."
Banks is equally, if not more excited. On Friday, she shared the movie posters on Instagram with the tagline, "Shine brighter. Shine farther." The executive producer captioned the photos, "‪Are you ready to shine brighter and farther? Eve's waiting for you."
I can confidently say that, yes, we are ready.