OMG, Tyra Banks Just Teased That Lindsay Lohan Could Still Be In 'Life-Size 2'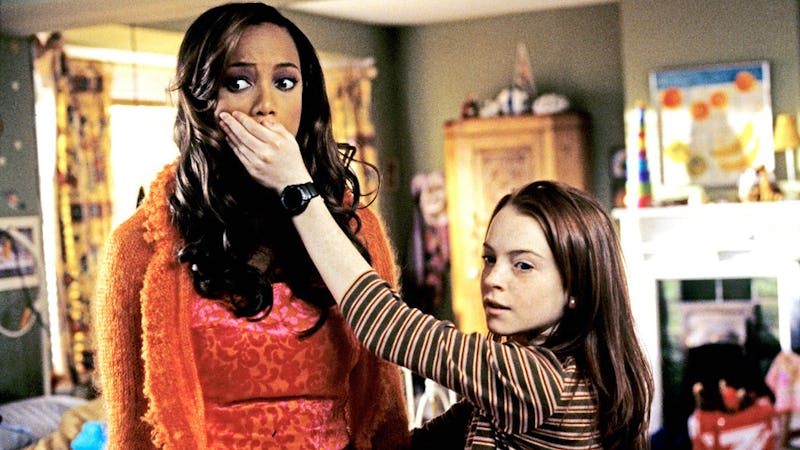 Disney
Eve, Life-Size's living doll, is great no matter where she goes, but Tyra Banks is even better. Especially after she shared an update about the Life-Size sequel that should excite DCOM fans. It turns out that Lindsay Lohan will appear in Life-Size 2, according to Banks, who will not only star in the Freeform sequel, but produce it too. However, what Lohan will be doing in the film is still a bit of a mystery — even to Banks herself.
In an interview with The Hollywood Reporter, Banks talked about being disappointed that Lohan couldn't star alongside her once again in the Life-Size sequel. "She has this new TV show on MTV about this club so she couldn't make it, which was sad," Banks said, referring to Lohan's upcoming reality show Lohan Beach House, which focuses on her business ventures in Greece.
While Casey Stuart, Lohan's beloved character from the original, may not be starring in this sequel, Banks teased that Lohan wouldn't be sitting this one out completely. "[Lindsay] will be in the movie in some kind of way," Banks told THR. "We'll see where that ends up." Fans will have to wait and see since Banks wasn't offering up any information, possibly because she doesn't have any quite yet.
Maybe Banks would like to see Lohan make a quick cameo, or maybe Lohan will just pop up in a flashback to give fans another look at Casey and her living doll. For all anyone knows, Lohan might just appear in a photo since technically that would mean she was "in" the film. Though, let's be honest, Twitter won't be very happy if that ends up being the case. Seriously, should Lohan only appear in a cutaway photo, Tyra's mentions after the premiere, which will air this December for Freeform's 25 Days of Christmas, will be rough to say the least.
It's unclear whether Lohan has agreed to make time in her schedule to take part in the film. As recently as last month, Entertainment Weekly reported that Lohan wouldn't be in the film and the actor has yet to comment on those reports. However, around that time, Freeform confirmed to Bustle that there were no plans for Lohan to be in the movie, so maybe don't get your hopes up too much for an onscreen Life-Size reunion just yet.
These statements may also just be wishful thinking on Banks' part, since she has said time and time again that she wants Lohan to reprise her role as Casey. Back in April, Banks told BuzzFeed that they were working on the script for the Life-Size sequel, and that she was hoping to find a way to write Casey into it. "I'm telling the writer I don't want her to just have a cameo," she said. "I feel like [Lohan] was just as important to Life-Size one as I was, so I want her to have a role, at least three or four scenes. I think she would play herself grown up — like, Casey in Life-Size grown up. So, we'll see!"
That we will, as will Banks' Life-Size 2 co-star Francia Raisa, who currently stars on Grown-ish. When the news of her casting was announced Raisa was quick to share her love for the original. "Cheesin so hard because I get to work with the amazing @tyrabanks on the sequel of one of my favorite childhood movies," Raisa wrote on Instagram.
Banks also seems excited to be working with Raisa, telling THR in her latest interview, "We went to a spa together before we started shooting and that really bonded us. That girl can act, it's in her eyes."
While fans will surely miss Lohan's character of Casey in Life-Size 2, Banks' Eve looks to be in good hands with Raisa. And who knows, Eve's new buddy might just get a chance to meet her old one if Banks is to be believed.