This Mariah Carey Meme Is Already Iconic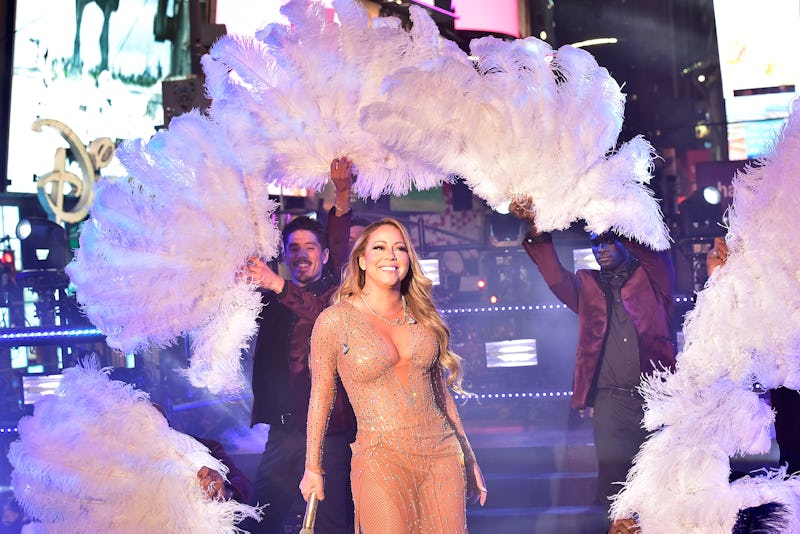 Eugene Gologursky/Getty Images Entertainment/Getty Images
By now, you've probably heard about Mariah Carey's glorious and totally dramatic performance at Dick Clark's Rockin' New Years Eve. While it left many of us initially confused, there is now one Mariah Carey New Year's Eve meme that has been created which is destined to become iconic in 2017. In relation to the event itself, for those who may not know, Carey's reps issued the following statement to Bustle: "There was a production issue. Technical difficulties. There unfortunately was nothing she could do to continue with the performance given the circumstances."
But now, one particular moment in Carey's performance has been turned into comedy gold. First made into a Vine by user Randy Mawse and then re-appropriated into meme format over on Twitter, this moment is on a runaway train to popularity with no signs of becoming irrelevant any time soon. The Vine itself is six seconds of Carey trying to sync up with the vocal track to her song "We Belong Together." As Carey tries her very best, she can only pretend to lip-sync along with the vocal track. Eventually, she resorts to reaching out to her fans while smiling through the awkwardness. It's a thing of beauty.
The iconic meme is definitely a good omen for what to expect in the coming months. Take a look for yourself.