These Melania Trump Christmas Memes Are Twitter's Latest Gift To You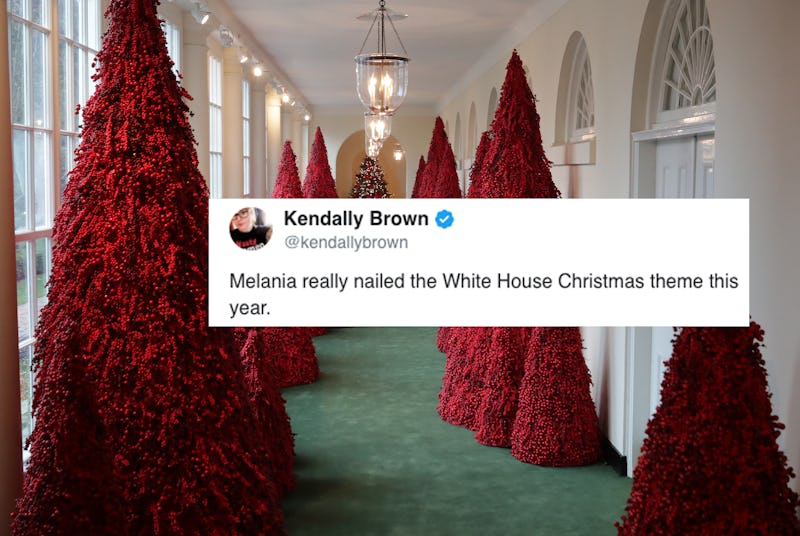 Chip Somodevilla/Getty Images News/Getty Images
We've made it through another year, and it's finally the holiday season. That means it's once again time for ostentatious White House decorations — and the first lady did not disappoint. This year, she chose to use what some are describing as blood-red trees in the East Wing hallway near the East Garden Room. After she tweeted out photos, jokes and memes about Melania Trump's Christmas decorations soon followed.
According to the White House, the theme is called "American Treasures." TIME reported that the Cross Hall and Grand Foyer are also decked out in red. There are 14,000 red ornaments spread out among 29 trees. The White House said the red is a tip of the hat to "valor and bravery" as symbolized by the red stripes in the presidential seal, according to the magazine.
When showcasing the 2018 White House decorations, Melania also released a video of herself walking amongst the 29 trees through the White House. In the video, you can see ornaments with her Be Best campaign typography. There's also a Gold Star Family tree in the East Wing. The White House provides tablets and stationary for visitors to write notes to family members serving abroad.
"This is a joyous time of year when we decorate the White House for the Christmas Season," Melania said in a statement from the White House. "Our theme honors the heart and spirit of the American people. Thank you to the many volunteers and staff who worked hard to decorate the halls of the People's House in Christmas cheer. On behalf of my family, we wish everyone a very Merry Christmas and a Happy New Year."