All The Mueller Report Details To Know If You Haven't Read The Summary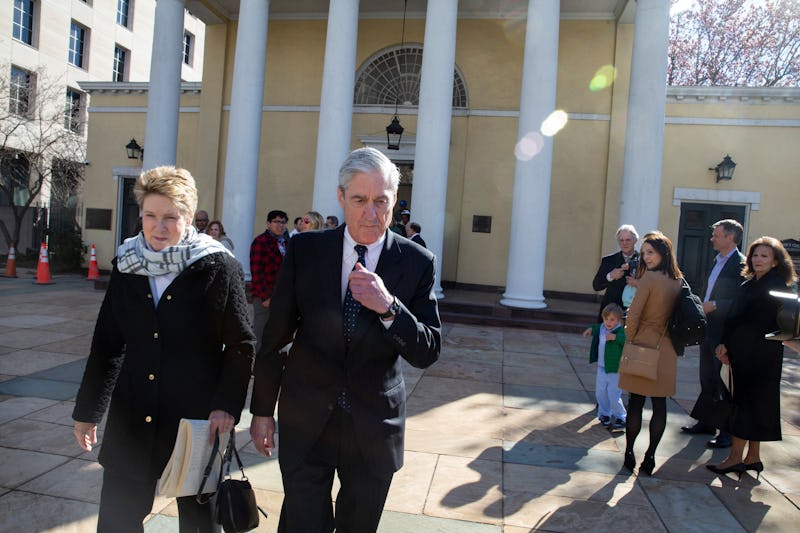 Tasos Katopodis/Getty Images News/Getty Images
On Sunday, the public got its first real glimpse into the highly anticipated Mueller report. Details revealed in a summary released by Attorney General William Barr sketched an image of a lengthy, detailed investigation process which concluded there was no collusion between Russia and the 2016 Trump campaign, but which also left questions about obstruction of justice unanswered. While lawmakers await a more complete copy of the report, itself, there are still a lot of facts to digest.
According to Barr's letter to lawmakers, Special Counsel Robert Mueller worked with 19 lawyers and 40 FBI agents over the course of his investigation. In total, he issued over 2,800 subpoenas and nearly 500 search warrants, only a fraction of which the general public was aware of before this weekend. On top of all that, Barr wrote, the Mueller team interviewed about 500 different witnesses.
The report did not recommend any more indictments and left it up to the Attorney General to determine whether or not it would be appropriate to pursue additional obstruction of justice charges, given the evidence presented. Barr wrote that he, in conjunction with Deputy Attorney General Rod Rosenstein, opted not to do so. However, based on preliminary congressional response, the battle may not yet be over.
"It's a shame that our country had to go through this," Trump told reporters on Sunday afternoon, according to CNN. "To be honest, it's a shame your President had to go through since before I was even elected."
Trump and the White House both called the report a complete exoneration. However, it was not quite that. According to Barr, Mueller indicated that "while this report does not conclude that the President committed a crime, it also does not exonerate him."
The report, according to Barr, certifies that the Russian group Internet Research Agency (IRA) tried to influence the 2016 election through social media and spreading disinformation. The Russian government also, according to Barr, conducted an email hacking campaign and leaked the recovered documents to WikiLeaks, as well as other unnamed groups.
But when it comes to obstruction of justice concerns, Barr's letter was a bit more vague. Because Mueller did not reach "any legal conclusions" in that realm, Barr wrote, it was up to the attorney general to decide whether or not any crimes took place.
Many Democratic lawmakers responded that Barr's letter was insufficient and demanded that they be sent the full report immediately. When Congress (and by extension, the public) might view a more complete copy of the report remains unknown, although it seems likely that one is forthcoming. In his letter, Barr relayed a plan to release a more complete copy, but declined to say when that might happen. Congress and the White House have historically supported making the full report available to the public.
Although Barr's letter answered some important questions, particularly concerning Russia, it may have also prompted just as many. Factoring in the report's release and any ensuing and ongoing congressional investigations, it will likely be months before a complete picture emerges.