You Can Get Sheets Personalized With Your BFF's Face That Are As Extra As Your Friendship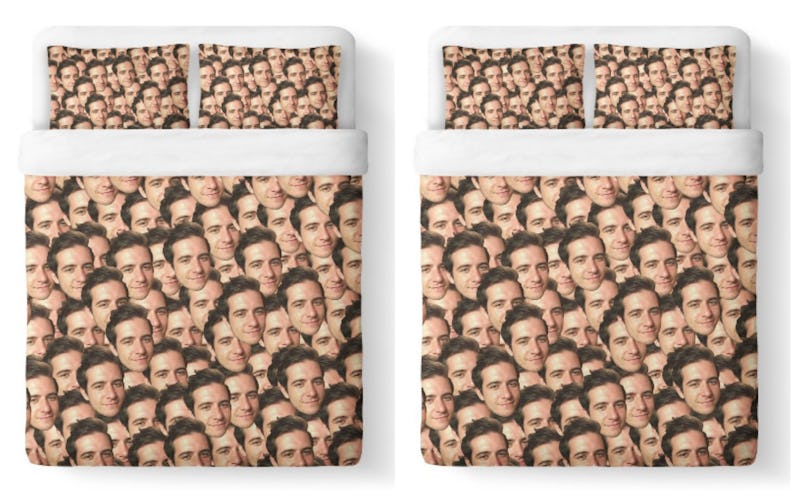 Shelfies
It's an undeniable truth that it hurts to be far from your best buddies. This certainly is the case if you move away from them; it's sometimes the case when you're on a trip out of town and see groups of pals hanging out that are not your own, and if you're someone who can't bear to be parted from your bestie even overnight, well, who are we to judge? Indeed, if your proclivities fall toward the latter, consider these personalized face bed sheets that you can use to immortalize your BFF.
As reported by Pretty52, these duvet covers are the brainchild of online retailer Shelfies. They come in twin, queen, and king sizes, depending on how big your bed is and how much of it you want covered by your bestie's punim. They're a little pricey — a twin cover runs $133, a queen about $155, and a king $178 — but for the high cost, you get to be sandwiched by your best friend while you slumber. Which, again, is sort of weird, but by all means, do your thing.
To obtain said face concentration, you upload whatever image you want embossed on your covers to Shelfies' website, and within 24 hours, they'll send you a preview photo, so you can confirm that that is, indeed, the exact image you want to live with until you come to your senses and decide to get a normal floral pattern bedspread or something. It's also noteworthy that Shelfies seems to think shoppers with want their own faces printed on their duvet covers, which is truly the most horrifying thing I can imagine, but, like, again, live your life.
"Spice up your bedroom with some wild photorealistic all-over-print bed covers. You're spending half your life sleeping (or more) so do yourself and your bed a favour and make it extra special," Shelfies says on their site. We live in a wild time.
So, certainly, you can get a custom bedspread with your best friend's latest selfie blown up all over it. But there are also some other fun customized ways to show your friends, family, and pets that you love them. Let's take a look.