You Can Put Your BFF's Face On A Heating Pad So Their Love Will Always Keep You Warm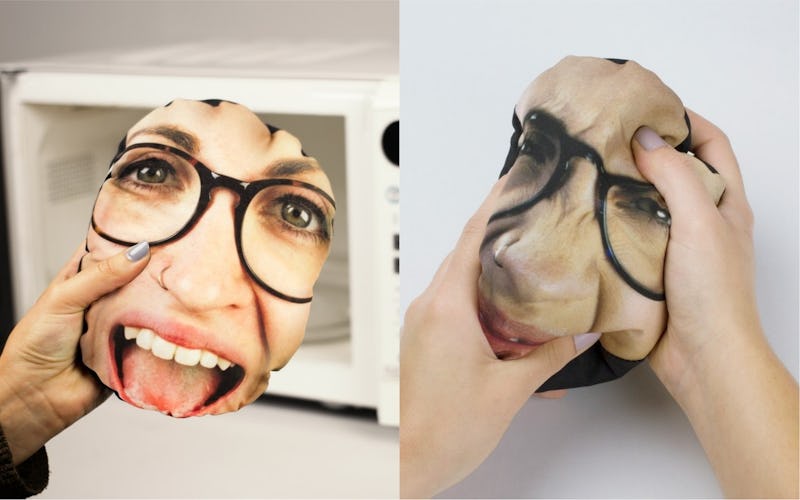 Anyone who has a long distance best friend knows it is a double-edged sword. On the one hand, this beautiful person whom you love deeply is in your life. They bond you share is not only comforting, but vital. But, as life happens, your best friend and you will probably live far from one another at a certain point. When you get home after a long, arduous work week, few things sound as pleasant as hanging out on the couch with your best friend. Now, thanks to these personalized face heating pads, you can enjoy the company of your pal no matter where they may be.
The site that's selling them actually refers to them as "hot heads," which is a much cuter name than plain old heating pads. What's a hot head, you may ask? It is a bag of material that you make hot, then place on your head (or other aching extremity). Usually, designs for the item are pretty limited, but UK-based company FIREBOX is aiming to make boring hot heads a thing of the past.
After adding the FIREBOX Personalized Hot Head to your cart, you are asked to upload the photo you want depicted on the item. But make sure you choose one where the subject is clear and focused, as the quality of the final product depends heavily on the quality of the photograph provided.
Personalised Hot Heads, $20.09, FIREBOX
Fast forward: now that you have ordered and received your hot head, what's next? It's going to be difficult because you love your friend so much, but you're going to have to put their face in the microwave for TWO WHOLE MINUTES. Try not to let it get to your head (heh) too much, your friend will understand.
What you do next can be perfectly explained by the product's description on the FIREBOX website. It reads, "Once you've heated your Hot Head in your microwave for a few minutes, the little wheat bag should stay toasty and warm for a few hours. Perfect for lonely wintry nights. Once it cools down, simply reheat and you're back in the hot-headed game!"
Basically, once you warm the hot head up, you have a soothing little beanbag-type item that smells of lavender. It's perfect for laying on your lower stomach to ease the pain of menstrual cramps. Or, channel Dwight Schrute from The Office when he rips the face off a CPR mannequin. You don't have to be quite so aggressive, but you can place the Hot Head atop your face to help relieve sinus pressure and of course, headaches. Or maybe you just want to experiment with a new identity. The possibilities are endless.
Say your LDBFF (long distance best friend forever) has an upcoming birthday. You want nothing more than to be there with them to celebrate. But, travel is expensive and sending a gift may be the best you can do. With this in mind, you want them to know JUST HOW MUCH they are missed. How do you show your LDBFF the strength with which you miss them?
Three words: Personalized. Care. Package.
Add a few packages of your LDBFF's favorite candy to a cardboard box. Seal an unmarked envelope filled with a bunch of temporary tattoos depicting your face. The delicate portraits that are turned into tattoos are hand-drawn and available for purchase on Etsy. Next, add a personalized air freshener displaying your face, so you can sing along with your LDBFF every time your favorite song comes on in their car. Perhaps unsurprisingly, these auto accessories are also available from FIREBOX. Finally, turn your favorite selfie into a Hot Head. It'll be the piece de resistance of the care package and be part of the most unforgettable gift your friend has ever received.