These Pics Of Princess Charlotte & Prince George At A Polo Match Are Adorably Normal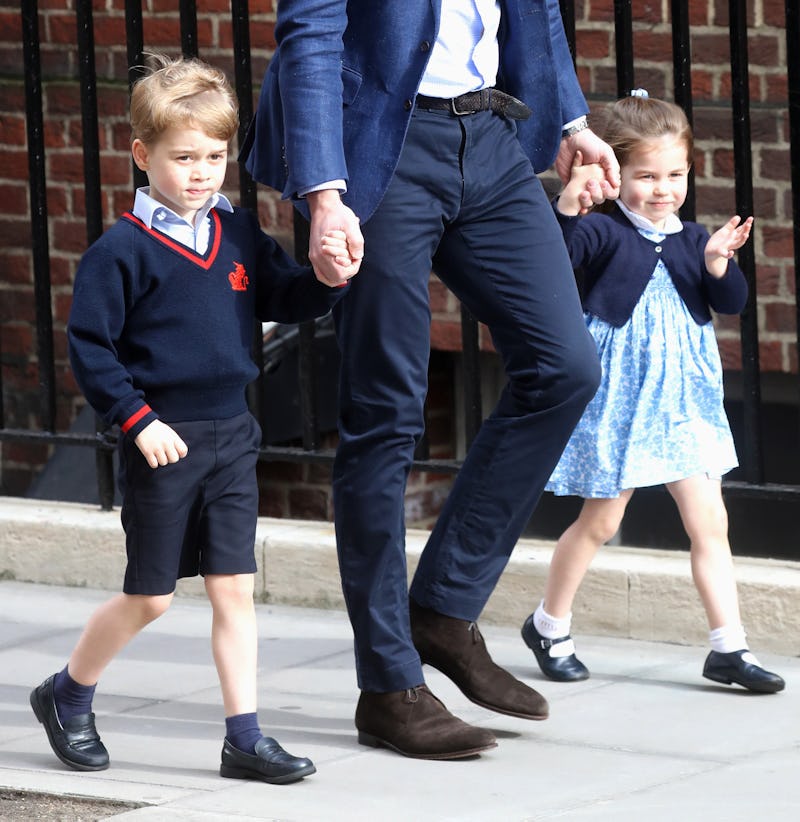 Chris Jackson/Getty Images Entertainment/Getty Images
Pretty much everything a royal family member does ends up making news, especially if it's one of the children. Prince George and Princess Charlotte stole the show at a polo match on Sunday. The toddlers were with their mom, Catherine, Duchess of Cambridge, to cheer on their dad, Prince William, during the Maserati Royal Charity Polo Trophy match in Gloucester, England, according to Us Weekly.
Sure, most people were technically there to watch the polo match, but there was just so much cuteness happening on the sidelines that it must have been tough not to get distracted. Prince George, age 4, and his sister Princess Charlotte, age 2, were arguably more entertaining than the actual match. At the very least, they were definitely cuter.
They may be royals, but they are really just like other kids their age. They could not just sit there and watch their father play polo for the entire duration of the match. They two of them made sure that they were entertained while they were there in many different ways. Clearly, they came prepared.
Princess Charlotte set toddler trends with her adorable sunglasses. Prince George was fascinated by a rainbow slinky and other toys. They both got a major kick out of rolling down the hill and doing somersaults. They even had their mother laughing while she watched them. Even she couldn't help being distracted from the game.
The royal family is known for being reserved and conservative, but it is apparent that the prince and princess did not get that memo. They have no problem letting out their big personalities and making sure that they have fun wherever they go, no matter who is watching. Even if an event is not about them, they always end up garnering a lot of attention for their adorable antics.
Who wouldn't love those sunglasses that Princess Charlotte was wearing? Plenty of people tweeted about Charlotte's sunglasses. Maybe she even started a trend. She really seems to be living her best life with those shades, so it makes sense that others would want to do the same.
The Princess did not want to just sit on the sidelines like everyone else. She decided to turn the field into her own personal playground and tumble around — with her shades on, of course.
In between tumbling in the grass and playing with her brother, Charlotte cuddled with her mother while George played with a rainbow slinky.
Duchess Kate could not help cracking up laughing when her daughter started doing somersaults in the grass. It's unclear how Prince George felt about the impromptu gymnastics session, but he did have an interesting facial expression at the moment this photo was taken. It does seem like everyone forgot about Prince William's polo match at this point.
The royal family has always been in the global spotlight, but royal fascination is at an all-time high these days. Aside from the attention from Prince Harry and Duchess Meghan's royal wedding, George and Charlotte attending so many major events has put them in the spotlight in a bigger way. On June 9, the day before the polo match, Prince George, Princess Charlotte, and their cousins Savannah and Isla Phillips got a lot of attention at the Trooping of Colour, which is an annual event to honor their great-grandmother Queen Elizabeth II's birthday.
The brother and sister duo also stuck out during their uncle Prince Harry's wedding to now-Duchess Meghan Markle on May 19. They were both members of the wedding party and had people talking about their adorableness during the big day.
Even though they are some of the youngest members of the royal family, Prince George and Princess Charlotte always manage to make important events way more entertaining.