These Prom Dresses Made Entirely Out Of Duck Tape Will Blow Your Mind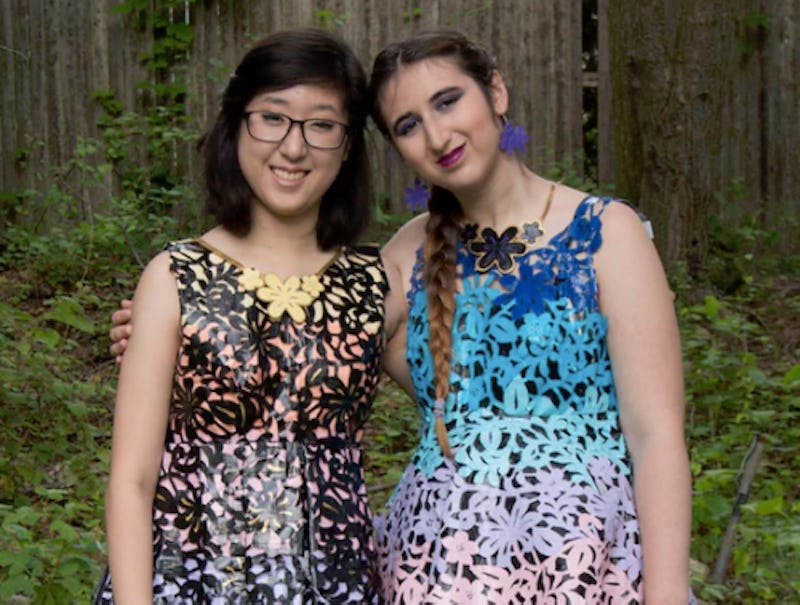 Courtesy Duck Tape
They may have hit their prime in the mid-2000s, but have no fear: duct tape prom dresses are still going strong in 2017. In fact, Duck Tape has selected 15 finalists for the 2017 Stuck At Prom Scholarship Contest — all of whom are vying for a substantial $50,000-worth of scholarship money, with the grand prize clocking in at $10,000 apiece for each half of the winning couple.
10 couples and 5 singles have been selected as finalists, and it's easy to see why they made the cut: Their duct tape-based creations go above and beyond what you'd think could be humanly possible — these are not the duct tape wallets you made back in middle school, they're much, much more. One couple went for a dramatic steampunk look, another went for an intricate laser-cut matching gowns (though, of course, they did the laserwork by hand!), and yet another created full-on Spanish-inspired ensembles.
At any rate, today is the last day to vote for your favorites — the polls will close near midnight EST on July 5th, 2017, and the lucky (and talented!) winners will be announced on July 12th. Let's take a look at the 15 finalists, and head over to the Stuck at Prom 2017 polls!
Emily and Ethan
How cool is that mod hexagonal motif? And the painted flowers on her hemline are absolutely gorgeous!
Jamie and Jennifer
Their dresses complement each other perfectly without being too matchy — and aren't you blown away by the intricacy of the floral cutouts?
Lauren and Ira
Anything that involves a duct tape top hat deserves bonus points.
Lauren and Ruben
The tailoring is absolutely flawless here — and that golden rose detailing is seriously next level.
Mallory and Noah
Their red and black coordination is quite chic, and the contrasting lapels on his tuxedo as well as the rosettes on her hemline add even more flair.
Mary Ann and Mollie
Don't you love the Ancient Greece meets high fashion vibes these two are giving off? They make Themyscira proud.
Megan-Marie and Brandon
The intricate rosettes on her bodice, as well as his full decked-out accessories (hat, glasses, bowtie, and shoes) really complete this neon look.
Olivia and McKinnon
That holographic train on her dress is really something else — and it's cool that they added so much creative detail to what could have been a plain suit.
Rozlin and Conner
Can you believe how intricate and architectural this look is?
Simin and Anna
This couple's two space-themed dresses have a cool, artsy vibe — and they even did their makeup to match. Plus, their parasol adds even more artistic flair, as do the duct tape hair accessories and intricate shoes.
The top 10 couples really brought their A-game, no? Now, let's take a look at the top 5 singles.
Allison
Allison looks like a regular Disney Princess in this gorgeous purple gown.
Emily
What a cute design, right? The ruffled skirt is adorable!
Mackenzie
Looks like Mackenzie went above and beyond the call of duty and created two prom dresses from duct tape. Too bad she wasn't allowed to compete in the couples competition and take both $10,000 prizes for herself!
Samantha
This elegant fishtail gown is more Marchesa than Michael's (craft store, that is).
Sierra
Ah, an expertly designed number with retro flair to truly make Harley Quinn proud.
All in all, it's a pretty tough call, right? There are so many great options to choose from — but you don't have much time to mull it over, it's time to vote!