These Responses To The Roy Moore Allegations Are The Very Definition Of Toxic Masculinity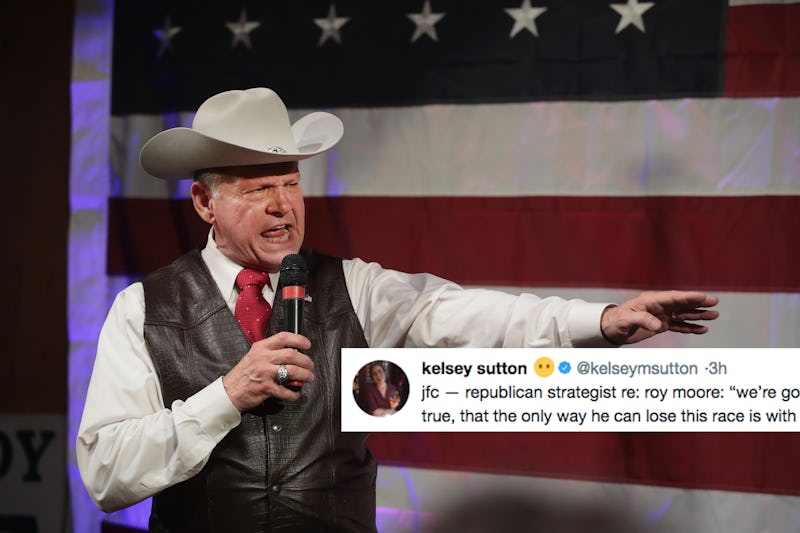 Scott Olson/Getty Images News/Getty Images
In a bombshell report published Thursday by the Washington Post, a woman has come forward to accuse Alabama's Republican Senate candidate Roy Moore of initiating a sexual encounter with her in 1979 when he was 32 and she was just 14 years old. Moore, who is now 70, has denied the allegations. However, responses to the allegations levied against Moore have varied from forceful condemnation to downright horrifying.
Leigh Corfman said Moore approached her for the first time outside a courthouse in Etowah County, Alabama in 1979. At the time Moore was reportedly working as an assistant district attorney. She alleges Moore pursued her, calling her at her house and picking her up for a "date" at his home. According to Corfman, the two visited Moore's house at least twice. On the first visit Corfman alleges Moore kissed her. On the second, Corfman claimed he removed his clothes and her shirt and pants, and then touched her over her bra and underwear. Corfman also alleges Moore had her touch him over his underwear.
Three other women also told the Post that Moore had also either pursued or attempted to pursue them when they were between the ages of 16 and 18. None of those women reported having been forced into in a relationship or sexual activity with Moore.
In a written statement to the Post, Moore denied the allegations, calling them "completely false" and "a desperate political attack by the National Democratic Party and the Washington Post on this campaign."
Moore's campaign chair Bill Armistead called also questioned the truthfulness of the allegations. "After over 40 years of public service, if any of these allegations were true, they would have been made public long before now," Armistead said in a statement, according to Buzzfeed. "This garbage is the very definition of fake news and intentional defamation."
"That Old Adage"
An Alabama Republican political strategist reportedly told Buzzfeed these allegations and the upcoming Alabama special election would serve as a significant test.
"We're gonna see if that old adage is true, that the only way he can lose this race is with a live boy or a dead girl," David Mowery said. "Alabama's gonna test the specs on that. Hold my beer."
"A Little Bit Unusual"
Some supporters of Moore also appeared to dismiss the allegations. "Even if you accept the Washington Post's report as being completely true, it's much ado about very little," Alabama State Auditor and Moore backer Jim Zeigler said, per Montgomery Advertiser reporter Brian Lyman.
In an interview with the Washington Examiner, Zeigler claimed there was "nothing immoral or illegal" in Corfman's allegations. Instead Zeigler characterized it as "maybe just a little bit unusual." Zeigler maintained Moore was "clean as a hound's tooth" and cited examples of biblical relationships that involved older men taking teenage girls as wives. "Take Joseph and Mary. Mary was a teenager and Joseph was an adult carpenter," Zeigler reportedly said.
"If It's True"
Others appeared to attempt to cast doubt on the allegations levied against Moore, stressing he should withdraw as a candidate only if the allegations are true. "If there is any truth at all to these horrific allegations, Roy Moore should immediately step aside as a Senate candidate," Sen. Susan Collins wrote in a tweet.
According to the Huffington Post, Sen. Cory Gardner called the allegations "deeply troubling" and called for Moore to drop out of the Alabama race "if these allegations are found to be true."
Breitbart
The conservative website once helmed by Steve Bannon boasted that it "outscooped" the Washington Post by publishing the allegations against Moore first and framed it as a story with political motivation. The headline read, "After Endorsing Democrat in Alabama, Bezos's Washington Post Plans to Hit Roy Moore with Allegations of Inappropriate Relations with Teenagers; Judge Claims Smear Campaign."
In fact, the site described one allegation as "romantic." When writing that a girl who was 17 at the time went on dates with Moore when he was 34, the website added that Moore was "being romantic, reading poetry to her, and playing the guitar."
But Some Republicans Took A Stand Against Moore
Yet some Republicans have issued powerful statements of condemnation against Moore in the wake of the allegations.
"The allegations against Roy Moore are deeply disturbing and disqualifying," retiring Sen. John McCain wrote in a tweet. "He should immediately step aside and allow the people of Alabama to elect a candidate they can be proud of."
According to Buzzfeed, Ohio Sen. Rob Portman also seemed more inclined to believe the women speaking out against Moore. "I think if what we read is true, and people are on the record so I assume it is, then he should step aside," the news outlet reported Portman said.
President Donald Trump, who had previously said Moore "sounds like a really great guy," has yet to comment on the matter.
It's unlikely, however, that Moore will be able to withdraw himself as a candidate even if pressured by senior Republican Party members. Alabama state law reportedly bars any candidate from removing themselves from the ballot within 76 days of an election. Alabama voters are expected to head to the polls Dec. 12.