Meghan & Harry's Potential Baby Names Include An Adorable Tribute To This Relative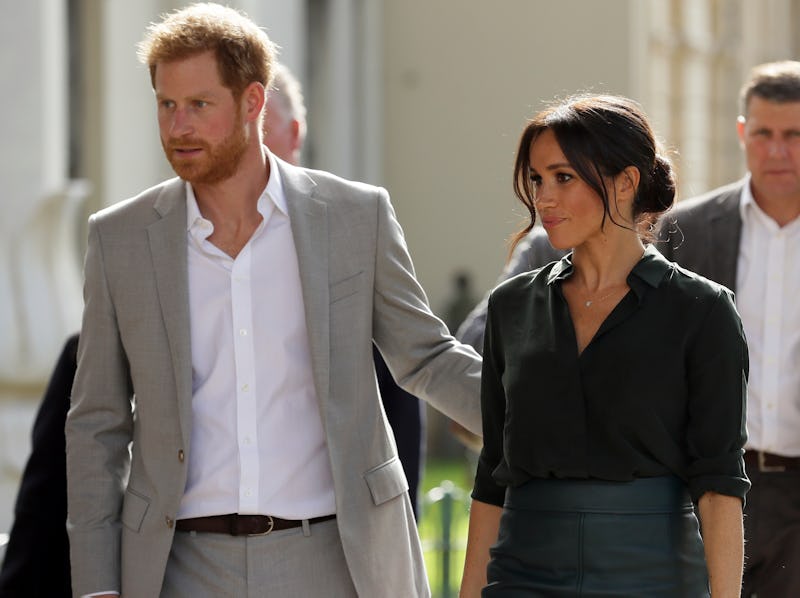 WPA Pool/Getty Images Entertainment/Getty Images
What's the best cure for a bout of the Monday blues? Why, a royal baby announcement courtesy of Prince Harry and Meghan Markle, of course. Excited doesn't even begin to cover my emotions right now, and I think I can safely say the same for royalists across the world — especially in Australia, where the Duke and Duchess of Sussex have just begun their first royal tour. Although it'll be a while until we meet their little bundle of joy, that's not stopped my heart from melting over the royal baby name guesses currently doing the rounds.
You see, whilst Markle and Harry's baby isn't due until around Spring 2019, as revealed in a statement from Kensington Palace, it hasn't stopped a barrage of adorable predictions for Meghan and Harry's first child. Among the favourite names is a touching tribute to Harry's mother, Princess Diana, if the baby is a girl. Seriously, prepare to grab the tissues.
"At this stage Diana, Arthur, and Alice, which was favourite at different stages for Kate and William's babies, are the 12/1 front runners," a spokesperson for Betfair tells me. "However, with months until the baby is born, those odds will shorten, change, and other names will come to the forefront, so watch this space." Oh, we certainly will.
A spokesperson for Paddy Power also tells me a similar range of odds, with Diana as a clear favourite at 8/1 for a girl, and Arthur at 12/1 for a boy, "or the Prince could name his child after himself, with Henry (25/1) and Harry (50/1) both in the betting."
Paddy Power also has odds outside of the name, including hair colour and gender. The gender is currently poised at a balanced 10/11, and it looks as though the newborn will share Markle's brunette locks (5/4) as opposed to Harry's strawberry blonde hair (3/1).
For a more extensive look at odds, SkyBet is the place to go. While they too have odds running for the name, they also have odds running for the date of the newborn's birth, right down to the date and time. At the moment, all the dates and times are split, which will obviously change nearer the due date.
Of course, these odds aren't a prophecy or set in stone, but it'll be interesting to see how close these predictions will be.
Who knows, Markle and Harry could even surprise us all and go for something floral for spring. Or, they could draw inspiration from Markle's American roots, and go for something like Sophia or Jackson, which were the top names in the States in 2017, according to Baby Center.
And of course, with all the speculation comes some pretty hilarious suggestions on Twitter. From Brexit to an Australian-inspired homage, there have been some pretty imaginative royal baby name guesses making the rounds on social media:
Whatever Harry and Meghan decide to name their child, I have no doubt that it's going be adorable — and become the top baby name for 2019.