These Sad Tom Brady Memes Are Amazing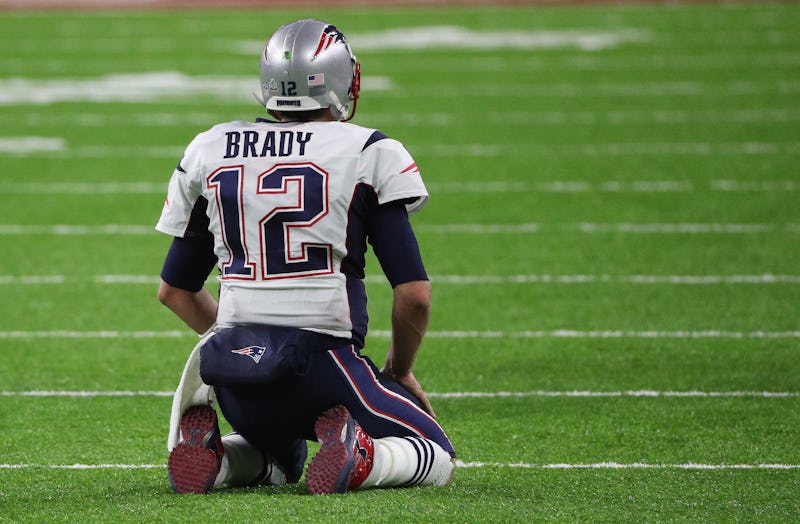 Patrick Smith/Getty Images Sport/Getty Images
The situation was not looking good for the Patriots halfway through Super Bowl LI, prompting some hilarious memes about sad Tom Brady. Cameras caught Brady's slightly depressed sideline look due to the Patriots' weak performance thus far. The Falcons scored three touchdowns in a row before the end of the first half, with only a single field goal by the Patriots in response. That's enough to make anyone a little sad looking, especially if you've had pretty consistently Super Bowl success up to this point.
Though he was definitely a little mopey looking on the sidelines, Brady might not need to be too worried yet. In their entire Super Bowl history, the Patriots have never scored points in the first quarter, and while they usually get it together by the second quarter, there's still time for them to come back from behind. On the other hand, no team has ever come back from 20 points down in the Super Bowl, so a Patriots win right now would be unprecedented. Plus, there might be riots in the streets since a lot of people seem pretty pleased that Brady and the Pats aren't getting their way. Whatever happens at the end of this game, at least these memes will last forever.
Sports Meme Mashup
Some People Were Pretty Happy About It Though
This Incredible Sad Brady Collage
Who's Sadder — Melania Or Tom?
Crying Jordan Is Just So Appropriate
Diving Into An Ocean Of Sadness
People Are Enjoying This More Than The Game Itself
New Emoji PLEASE
Longing For Days Gone By
For Real Though
Hello Darkness My Old Friend
This is probably going to be a pretty memorable game, but in the end, both sports fans and non-sports fan will remember the Sad Brady phenomenon that resulted. Super Bowls come and go, but memes last a lifetime.