These "Smell Test" Memes & Tweets Don't Stink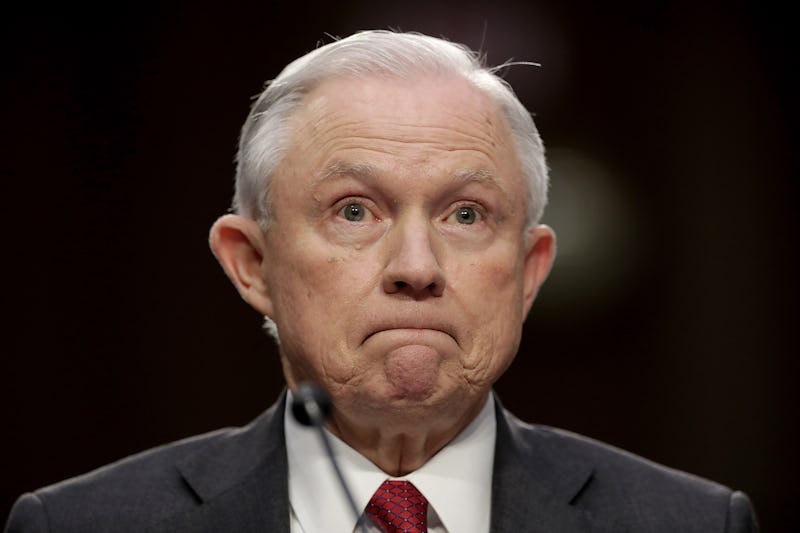 Chip Somodevilla/Getty Images News/Getty Images
On Tuesday, Attorney General Jeff Sessions testified before the Senate Intelligence Committee about his involvement in the Russia investigation and his role in former FBI Director James Comey's firing. Things heated up when Sen. Ron Wyden got the chance to grill Sessions, and during a tense exchange about the firing of Comey, Wyden said Sessions' answer "didn't pass the smell test."
Wyden and Sessions were discussing the attorney general's decision to sign the letter recommending President Donald Trump fire Comey. Sessions had previously recused himself in the investigation into Russian interference with the U.S. election. But after Comey was fired — which Sessions recommended — Trump told NBC's Lester Holt that he had fired him because of the Russian investigation. So, the Senate Intelligence Committee was interested in hearing from Sessions why he didn't feel that he violated his recusal in the Russia investigation.
Wyden asked Sessions why he signed the letter when it violated his recusal. Sessions responded by saying that it didn't violate his recusal. He explained, "The letter I signed represented my views that were formulated for some time." To which Wyden replied, "That answer, in my view, doesn't pass the smell test," which launched many jokes and memes on Twitter from those who were following along.
He's Wearing Axe
It Doesn't Smell Good
No Way
Even Hermione Knows
Bring In The Sniffer
The Judge Has Spoken
He Failed
How Juvenile
It's Not Just Sessions
*Snaps*
What Wyden likely meant by his comment was that Sessions' replies don't seem believable given the circumstances.
Another memorable moment during Wyden's questioning came right before the "smell test" comment when Wyden talked about Comey's testimony that Sessions was recusing himself from the Russia investigation for a variety of reasons.
Wyden said, "Mr. Comey said that there were matters with respect to the recusal that were problematic, and he couldn't talk about them. What are they?"
Sessions replied,
Why don't you tell me? There are none, Sen. Wyden. There are none! I can tell you that for absolute certainty. You — this is a secret innuendo being leaked out there about me, and I don't appreciate it, and I tried to give my best and truthful answers to any committee I've appeared before, and it's really people sort of suggesting innuendo that I have been not honest about matters, and I've tried to be honest.
Throughout his testimony, Sessions denied he discussed the election with Russians and declared any such insinuations to be a lie. His testimony is just one piece of the large puzzle that is the investigation into Russia's interfering with the U.S. election, which is certainly not over yet.