Mariah Carey's "All I Want For Christmas Is You" Is Super Popular With This Unexpected Demographic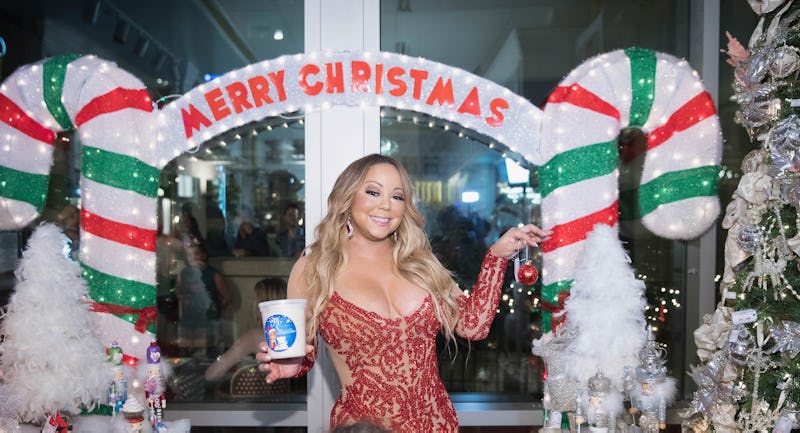 Mat Hayward/Getty Images Entertainment/Getty Images
Here's a fun fact that should surprise absolutely no one: According to streaming data provided by iHeartRadio to Bustle, "All I Want For Christmas Is You" by Mariah Carey is the most popular holiday song across in the United States. This is by no means mind-blowing, especially considering that the track — which was originally released in 1994 — seems to get increasingly more popular with every passing year. In fact, Nielsen Music (via Billboard) — which started tracking digital sales in 2003 — dubbed it the "Top Selling Christmas Song Of All Time," raking in more than 80.6 million on-demand streams in 2016 alone. Still not shocked yet? The rest of these stats on Carey's ever-popular holiday track might just blow your mind.
If Mariah Carey's "All I Want For Christmas Is You" isn't already stuck in your head (or blasting from your speakers), it definitely will be by the time you're done reading. But according to the data from iHeartRadio, it's probably been stuck in your head for at least a few weeks now anyway. iHeartRadio listeners first started streaming the track in early November, with a noticeable spike occurring right after Thanksgiving. When it comes to Christmas music in general, the most merry time of day for their users starts at 9 a.m. Beyond that, the most popular day of the week for Christmas music is Friday mornings, which, if you're gearing up for a weekend filled with holly, jolly fun, totally makes sense.
And while we've already established that "All I Want For Christmas Is You" is the most popular Christmas song of all time, it may surprise you to know exactly how much more popular than other songs it actually is. Coming in at No. 2 for iHeartRadio listeners is "Jingle Bell Rock" by Bobby Helms, but it's not exactly a close race — in the No. 1 spot, "All I Want For Christmas Is You," has double the thumbs up of the Bobby Helms hit. And it isn't just women that are blasting Mariah in the morning. iHeartRadio reports that it's basically a 50/50 split in terms of male and female listeners, which just goes to show that no one is immune to Carey's crazy-catchy Christmas hit. 
But in the 23 years since it was originally released, Carey's hit has never once been able to crack the top 10 list on Billboard's Hot 100 chart — until now. After previously peaking at No. 11, Billboard announced this morning that "All I Want For Christmas Is You" had reached No. 9 on the Billboard Hot 100, making it her 28th Hot 100 Top 10. She might not care about the presents underneath the Christmas tree, she might not need to hang her stocking, there upon the fireplace. Santa Claus can't make her happy, with a toy on Christmas day, but this news is probably making Carey's Christmas very merry, indeed.
The rest of the tracks on iHeartRadio's most-listened to Christmas hits may never quite reach peak Mimi status on the Billboard Hot 100, but they're still bringing plenty in of listeners and plenty of Christmas cheer on their own. "Winter Wonderland" by Johnny Mathis is the No. 3 most thumbed-up Christmas song, "Happy Xmas War Is Over (Full Version)" by John Lennon & The Plastic Ono Band is No. 4, and "Happy Holidays" by Andy Williams comes in at No. 5.
Regardless of what kind of Christmas tunes you like to listen to when, where, and how often, and no matter if you've been naughty or nice, raise a glass of eggnog and stay merry out there.
And check out Bustle's homage to Double Dare — Bustle's Race 2 Face is the ultimate competition show for beauty lovers, with new episodes airing on Facebook every Monday. You can watch Race 2 Face Episode 2 now. Ready, set, GLOW!