These Hilarious GIFs Honestly Sum Up The Entire Super Bowl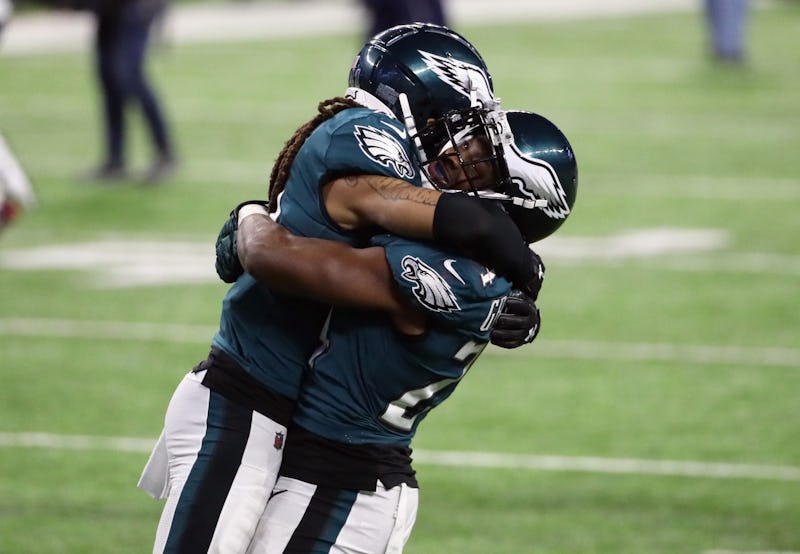 Jonathan Daniel/Getty Images Sport/Getty Images
The 52nd Super Bowl was a tense game, and it didn't help that the Philadelphia Eagles and New England Patriots fans are some of the most passionate and loyal fans in the league. During the game, Twitter was ablaze with commentary, accompanied incredibly accurate (and hilarious) images. Here are some of the best GIFs that sum up the Super Bowl.
Sunday night's game was especially nerve-wracking for fans because the Eagles were the underdogs in the game. The Patriots had won five Super Bowl championships, and the Eagles had yet to win one.
Eagles and Patriots fans are known for being eccentric (some might say obnoxious), so much so, that Saturday Night Live parodied their diehard fans in a sketch the night before the big game. Some fans in Philly have even gone so far as to scale greased telephone poles after games, while others got in fist fights with police horses. And Pats fans are known for their over-the-top gloating, after winning so many titles in the past.
Naturally, this combination of fans made for one interesting Twitter conversation. It looks like football fans were getting just as rowdy online as they were inside the stadium during the 2018 Super Bowl.
Nick Foles Had A Good Game
A lot of people think breakout star quarterback for the Eagles, Nick Foles, is having a really good game. His epic touchdown catch got a lot of reactions on Twitter.
Like, A Really Good Game
Foles caught a touchdown pass during a trick play. It happened to be a play that Tom Brady once used against the Eagles, SB Nation reported.
But, Don't Get Too Excited Yet
While the Eagles started out strong, fans should be wary of getting too excited too soon. The Atlanta Falcons lost the 2017 Super Bowl after having a lead on the Pats.
Not Everyone Was Impressed By JT
Some fans weren't impressed with Justin Timberlake's much-hyped halftime show.
People Fell Asleep
People really expected more from Timberlake's halftime show. A lot of people tweeted that they were bored during his set.
Fix The Sound
There were also some volume issues people weren't happy about during the halftime performance.
Where's Left Shark?
People missed the "left shark," who didn't really know how to dance, that made an appearance in Katy Perry's Super Bowl halftime show at the 2015 game.
Gronk Score
Pats fans were rooting for the team's tight end Rob Gronkowski.
Don't Let Tom Brady Win
Because the Patriots have won so many Super Bowls before, and quarterback Tom Brady is known for being cocky, a lot of people wanted him to lose the 2018 game.
Cardi B's Alexa Commercial For The Win
No matter how you feel about the outcome of Sunday's game, we can all agree Cardi B as Alexa made the whole thing worth watching.
Pats Take The Lead Again
People, particularly Eagles fans, were very disappointed when the Patriots took the lead in the 4th quarter.
More to come ...