Here's The Full Song List From Justin Timberlake's Halftime Show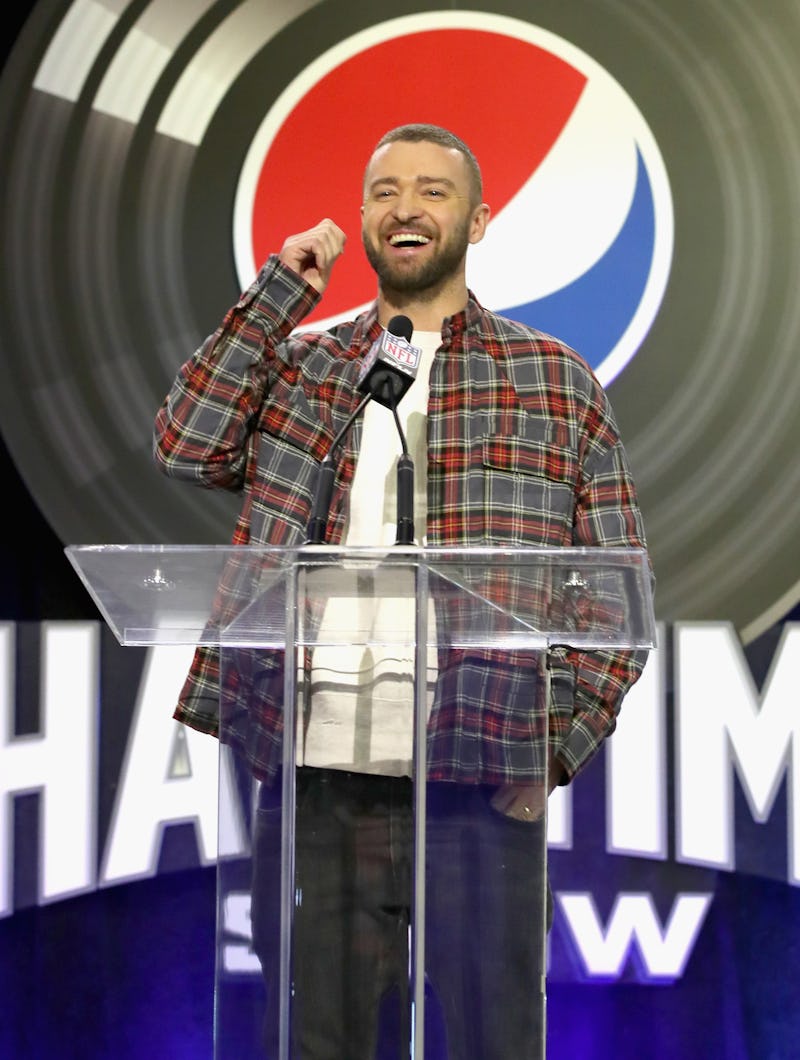 Christopher Polk/Getty Images Entertainment/Getty Images
Justin Timberlake's Super Bowl LII halftime show performance comes just days after his latest album, Man of the Woods, was released. Naturally, fans will want to know Timberlake's 2018 Super Bowl halftime song list after watching his performance, whether to groove to old favorites or to discover his new music.
Ahead of Timberlake's Super Bowl performance, fans were probably expecting to hear at least a few of his classic hits, like "Suit & Tie" and "SexyBack." And it's hard to imagine he'd skip over "Can't Stop The Feeling!" — that song is just infectious. Plus, some fans hoped that Timberlake is a Lady Bird fan, and that there was a chance he'd sing "Cry Me a River."
Given Man of the Woods' recent release date, though, it was likely he'd perform at least one of his newest songs at the event. Two of the album's tracks, "Filthy" and "Say Something," which features country artist Chris Stapleton, were released as singles. So it was safe to assume at least one of them would be played, since fans might already recognize those songs from the radio.
Timberlake himself also offered what could be clues about the performance through his Twitter feed ahead of the show. He shared a video of himself singing "Montana," one of the new Man of the Woods songs, on a football field, with a caption about "rehearsals." The tweet was a playful sign of the fun energy that was sure to accompany his halftime show, even if "Montana" didn't make it into the final set list. Now that we've seen the halftime show, here are the songs Timberlake performed at the Super Bowl.
"Filthy"
Timberlake started off the show with one of the singles from Man of The Woods, before moving on to many more classic hits.
"Rock Your Body"
After starting off with a new song, Timberlake had the crowd cheering with a performance of one of his most memorable songs.
"Señorita"
Another one of Timberlake's earlier hits made it into the mega-mix performance.
"SexyBack"
You didn't really think Timberlake would leave this one off the set list, did you?
"My Love"
Well, you can't have "SexyBack" without "My Love," right?
"Cry Me A River"
It looks like Lady Bird fans had no reason to be worried — Timberlake included the nostalgic song in the mix. "Cry Me A River" was also named on a leaked set list ahead of the performance, so fans who were extra curious already knew to look forward to hearing it at the show.
"Suit & Tie"
It's likely the crowd — and the viewers at home — couldn't resist singing along to the "show you a few things" line.
"Until The End Of Time"
Timberlake asked the crowd to take out their cell phones when it was time to add some slower songs into the mix.
"I Would Die 4 U" - Prince
Timberlake shook up the halftime show by throwing a Prince cover into the mix. Super Bowl LII took place in Prince's hometown, Minneapolis, so it was a fitting tribute to the late singer.
"Mirrors"
"Mirrors" is another one of Timberlake's songs that's impossible not to sing along to, which made it a perfect candidate for his Super Bowl performance.
"Can't Stop The Feeling"
The upbeat song was a great way for Timberlake to round out his performance. The singer also confirmed before the Super Bowl that he'd be singing "Can't Stop The Feeling," so this one wasn't much of a surprise.
Timberlake may not have brought out any guests during his Super Bowl halftime show, but he still brought the energy with these classic songs.