These "Toronto" Memes & Tributes Are A Beautiful Way To Show Your Solidarity
by Priscilla Totiyapungprasert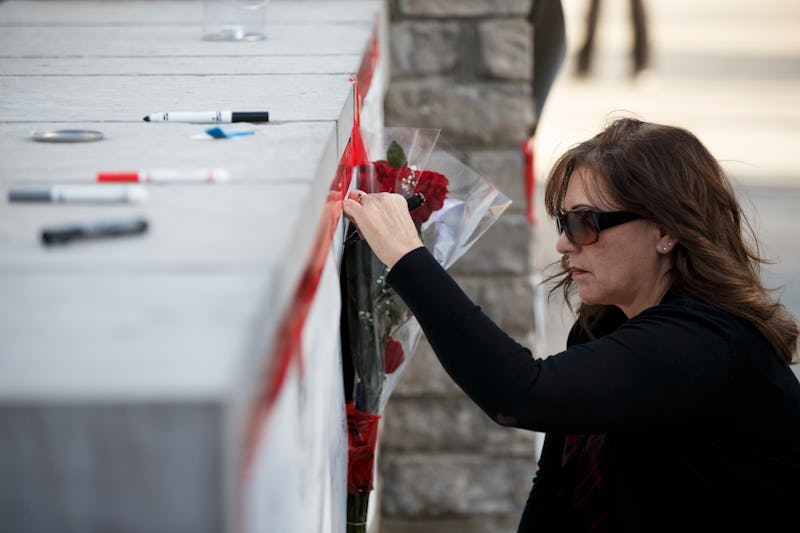 Cole Burston/Getty Images News/Getty Images
Messages of condolence and support are pouring on Twitter after a deadly van attack in Toronto. The tributes and "Toronto Strong" memes are a heartfelt way to show solidarity with those affected by the tragic event, which killed at least 10 people and injured at least 15 others. On Monday afternoon, the suspect drove a rented white van over a curb and plowed into people in a busy pedestrian area. Government officials say that so far, the suspect has not been associated with any organized terrorist group or greater threats to national security, reported CBC News.
Canadian Prime Minister Justin Trudeau released the following statement after the devastating attack:
It was with great sadness that I heard about the tragic and senseless attack that took place in Toronto this afternoon. On behalf of all Canadians, I offer my heartfelt condolences to the loved ones of those who were killed, and my thoughts for a fast and full recovery to those injured.
I thank the first responders at the scene who managed this extremely difficult situation with courage and professionalism. They faced danger without hesitation, and their efforts no doubt saved lives and prevented further injuries.
One of the responders was Toronto police officer Scott Gilmore, who people are praising for calmly facing down the suspect without shooting him. In times like this, people are taking to social media to show their solidarity with Toronto. Here are some of the people sending messages out: