13 Glorious Trump Burns From The Emmys That Will Make You Laugh SO Bigly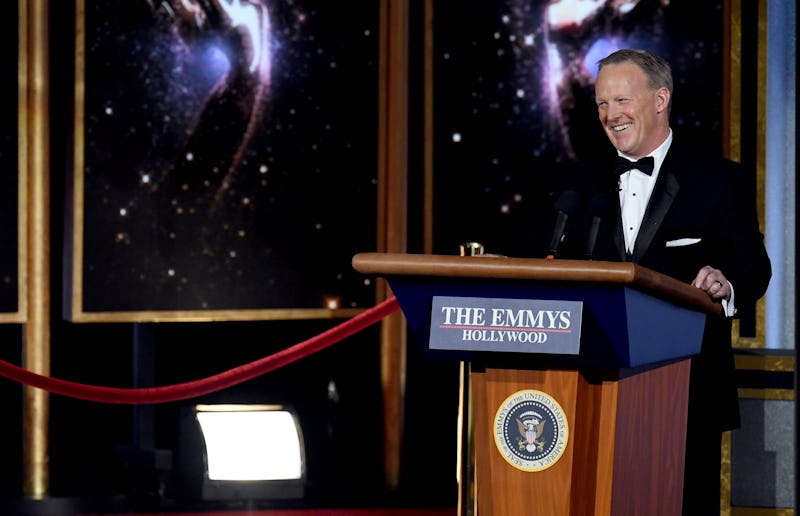 Kevin Winter/Getty Images Entertainment/Getty Images
The Emmys got political on Sunday night, as most award shows do lately, since Donald Trump became president. With Stephen Colbert as the host, it was unsurprising that jokes about Trump at the Emmys made their way into the cold open, Colbert's opening monologue, the Westworld sketch, acceptance speeches, and even that one very unexpected cameo.
At previous award ceremonies, celebrities have embraced commentary on the current political minefield. Once, they donned blue ribbons on the red carpet to support the American Civil Liberties Union, and at this year's Golden Globes, Meryl Streep called out Trump in her speech for allegedly mocking a journalist with a disability and for his rhetoric against immigrants.
Trump himself has a storied history — and a sore spot — with the Emmys, because he has been nominated four times between 2004 and 2006 for The Celebrity Apprentice, but has lost out every time to rival reality show The Amazing Race. The president has called the Emmy Awards "rigged" against him several times on Twitter, writing that the show has "no credibility" and that The Apprentice "should have won" but the "same shows win over and over again due to politics."
Here are some of the greatest jokes, quips, and outright burns about Trump from the 2017 Emmys.