The Internet Had Jokes About Trump's Glowing Orb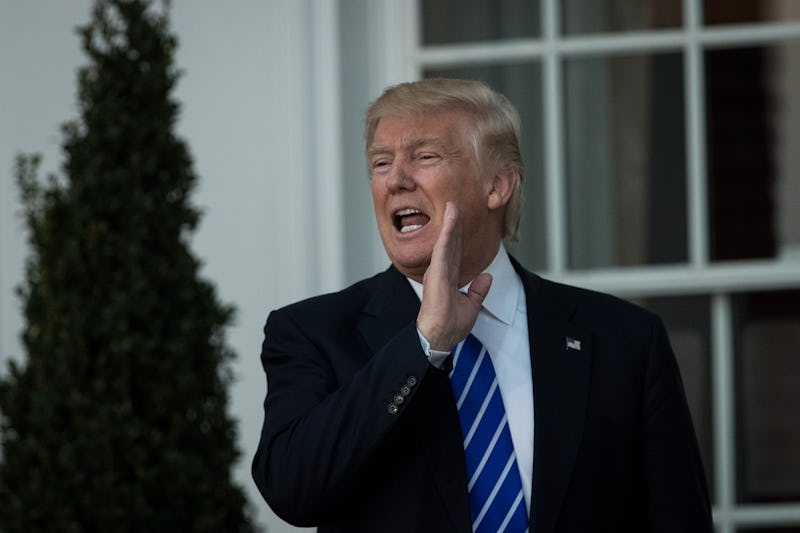 Drew Angerer/Getty Images News/Getty Images
Donald Trump's trip to Saudi Arabia continues to win the attention and fascination of internet denizens around the world. First, on Saturday, people saw Trump receive Saudi Arabia's highest honor, the Collar of Abdulaziz Al Saud, at the Royal Court Palace in Riyadh. On Sunday, there was a radiant silvery orb. Yes, you read that right.
An orb was positioned at the center of the stage for the newly-initiated Global Center for Combating Extremist Ideology. The president was joined by Egypt's Abdel Fatah al Sissi along with Saudi Arabia's King Salman, and naturally, the internet reacted to the glowing orb palmed by Trump and the other leaders.
In the video shared by The Washington Post, the glowing orb, or luminescent globe (or whatever fancy term you want to give that peculiar-looking spherical object) can be seen at the center of the stage. Members of the initiative explain the inner workings of Global Center for Combating Extremist Ideology in both English and Arabic on large-than-life screens. A female speaker announces in English, "Our systems analyze millions of extremist digital content within few seconds and pass it on to specialized departments for further action."
It sounds like a momentous undertaking with far-reaching consequences — but as soon as the image of Trump, Sissi, and Salman appears, it's hard to ignore the comical nature of a glowing orb being palmed by three adult men. People went all over the place with their interpretation of yet another strange image from a pretty strange week.
1. Inquiring Minds Want To Know Who Wore It Better
I never thought I would reach this point in my career trajectory as a journalist: comparing Trump touching a glowing orb with Saruman from The Lord of The Rings planning unspeakable evil while meditating over a palantíri, or seeing-stone. But here I am.
Lincoln Michel has a good question, "Who wore it better?" I'm going to go with Saruman.
2. Seduced By The Glowing Orb
Some imagined a scenario where Trump may have vowed never to touch the ominous globe during his campaign, but then changed his mind upon seeing it.
I'd want to touch it, too.
3. More Similarities
There aren't too many images of adults solemnly palming a glowing orb — unless it's Saruman or a fortune-teller predicting your future — but there are plenty of images of kids surrounding magical-looking globes.
4. The Immense Pleasure On Trump's Face
A lot of people couldn't help but notice the unmistakable smile of satisfaction on Trump's face while holding the orb.
5. Some Got A Dash Racy
A few gave the image a more NSFW interpretation.
6. A Theological Interpretation Of The Infamous Orb
Some couldn't help but give the image a comically religious caption.
7. Not The First Time Trump & "Grab" Appear In The Same Place
Others remembered Trump's notorious statements on women, including one detailing "grabbing them by the pussy." It made sense that a reminder on that scandal would inevitably come up.
8. Zoom In On Other Faces
Some noticed King Salman's sullen and mildly concerned expression.
9. More Parallels
There is something ritualistic about men surrounding a glowing orb which, obviously, the internet couldn't stop noticing.
10. Space Jam Basketball Orb
Who can forget Space Jam's glowing basketball? That said, the little critters look much harmless holding that luminescent basketball.
11. All Hail Photoshop
With the wonders of Photoshop, the image got even better renditions. In this case, Trump's electrified hair and the buzzing orb make this photo reminiscent of a fantasy anime series filled with action and drama.
12. The Bajoran Orb Of Time
Some joked that Trump got his hands on the all-mighty Orb of Time.
As the trip in Saudi Arabia goes on, the internet can trust Trump to deliver more intriguing images from his adventure.