You Need To Watch These Videos Of Ice Dancers Performing To "Despacito" At The 2018 Winter Olympics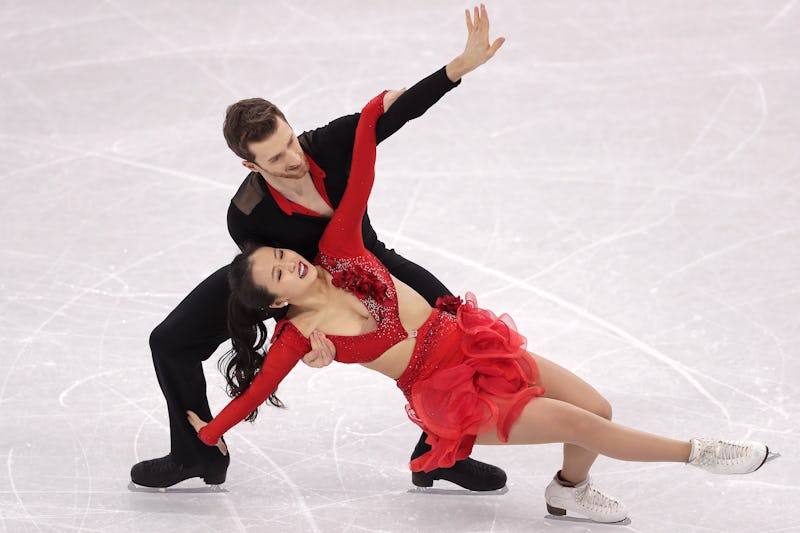 Richard Heathcote/Getty Images Sport/Getty Images
If you could pick any song to accompany your Olympic figure-skating debut, which one would you choose? Judging by the events of Saturday Feb. 10's ice dancing short program, it seems this year's most popular backtrack of choice was "Despacito," Luis Fonsi's 2017 chart-topping hit, which features the likes of both Daddy Yankee and Justin Bieber. These videos of figure skaters performing to "Despacito" at the 2018 Winter Olympics are, if nothing else, a testament to the oft-unsung power of the good old-fashioned revamp.
Thanks to a 2014 decision by the International Skating Union, the long-held tenets of the Olympic figure-skating handbook have been rejiggered to allow skaters competing in both singles and pairs divisions to perform their routines to a lyrical soundtrack. That means, in doing away with the classical music mandates of yore, the 2018 Winter Olympics (which kicked off Friday, Feb. 9, in Pyeongchang, South Korea) marks the first-ever Games to gift its figure skating events with a new-age contemporary flair.
So, in lieu of the Olympic figure skating's usual lineup of routines performed to some wonted iteration of "Swan Lake," this year's challenge touted some markedly different tunes. Though, in Shiyue Wang and Xinyu Liu's case, the freshly-minted performance tunes were not quite so different from those of their ice-dancing competitors. According to a Feb. 10 report by Sports Illustrated, skating pairs who were set to compete in Saturday night's ice dancing short program were required to incorporate some kind of "Latin rhythm" into their routines. Naturally, the resounding pick was "Despacito."
Wang and Liu represented China in the evening's ice dancing event. And, when the skating team took to the massive ice rink to perform Saturday night, the pair infused their ice-dance routine with a cover version of Fonsi's "Despacito," sung by Leroy Sanchez and Madilyn Bailey. A clever choice, certainly, given the flirty hip-hop track's international commercial success and wide critical acclaim. But, unfortunately, the element of surprise was all but lost on Wang and Liu's watchful audience Saturday night. Because, as far as music selections go, South Korea's ice dancing team had already beaten them to the punch.
Minutes before Wang and Liu mounted the ice for their routine, South Korean figure skating duo Yura Min and Alexander Gamelin (both of whom actually originally hail from the United States) had just finished performing their own. And, in perhaps one of the most hard-earned lessons in popular music selection to date, Min and Gamelin had also incorporated a slowed-down version of "Despacito" into their ice dance. If fan reactions to Min and Gamelin's routine on social media is any indication, it seems theirs was the performance that really stole the show.
After kicking off their show-stopping performance with an exciting, ice-laden jaunt through "Despacito," Min and Gamelin's refreshingly entertaining musical gamut only continued to turn heads. The skating duo's performance soundtrack touted a medley of bona fide "bangers," including Mariah Carey's 1997 R&B ballad, "My All," and Mexican singer-songwriter Thalía's "Mujer Latina."
According to a Feb. 8 report by the New York Times — ahead of the 2018 Winter Olympics' opening ceremony Friday morning — the International Skating Union's decision to adopt new rules allowing for lyrical performance tracks was (at least, in part) an attempt to tap into a younger viewership demographic. As the Times reported, supporters of the new rule have argued that lyrics are crucial in helping a skater convey the real narrative (and accompanying emotion) behind their routine.
Plus, when it comes to snagging the attention of the notoriously unimpressed post-millennial generation, employing the use of pop music's mega-hits seems like a pretty solid place to start.