These Winter Storm Toby Memes Will Make You Want To Rewatch "The Office" Yet Again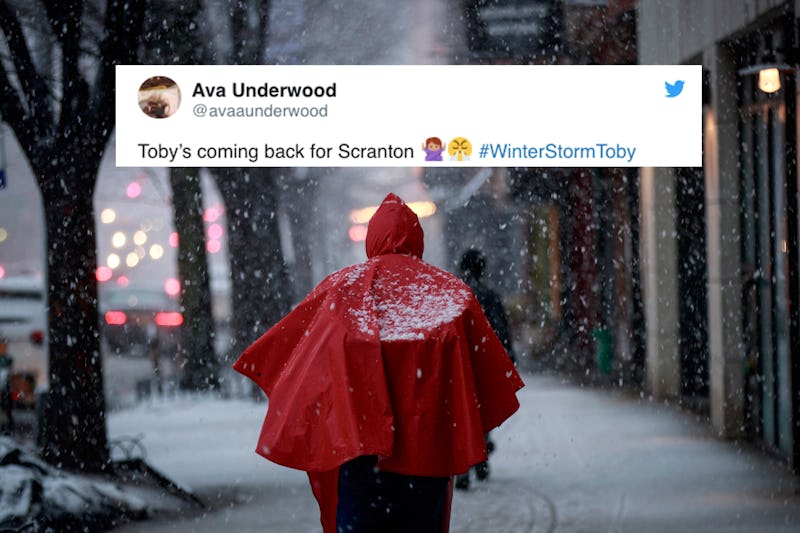 Drew Angerer/Getty Images News/Getty Images
The Northeast buckled down for its fourth nor'easter in three weeks on Wednesday as schools closed, snow emergencies were declared, and power outages hit unlucky communities. Folks on social media coped with the nasty weather using their preferred method: by saturating Twitter with "Winter Storm Toby" memes.
Toby Flenderson from The Office, Toby Damon from This Is Us, and Toby Isaacs from Degrassi all were fodder for jokes about the nor'easter, which has been labeled "Toby" by The Weather Channel. The channel always names winter storms that affect a certain geographical radius or number of people. Their practice is controversial, though: Some say that these titles shouldn't be used because they aren't as official as those given to hurricanes by the World Meteorological Organization.
Regardless of whether naming winter storms is a "best" practice, the labels have certainly caught on and gained popularity since The Weather Channel started publicizing them in 2012. Which of course means that they're all over Twitter. Even country singer-songwriter Toby Keith joined in to make a "Toby" reference this week.
Outside the interwebs, the storm is less funny. Parts of the Northeast are expected to receive over a foot of snow, and nearly 4,000 flights have already been cancelled. Some people had already lost power as of Wednesday morning, with many more expected to join them by the end of the day. The National Weather Service announced that "Travel will be very difficult to impossible, especially during the evening commute" and warned people outside to "expect significant reductions in visibility at times."
The Weather Channel noted that Toby might become "one of the heaviest, latest March snowstorms on record in parts of [the] Interstate 95 corridor." Here are some memes that make light of the heavy storm.
You Might Hate Toby, But Not As Much As Michael Scott
The antagonistic relationship between office boss Michael Scott and human resources worker Toby Flenderson — who's played by Paul Lieberstein, the series' showrunner — is a running joke on The Office. Flenderson calls out Scott's improper workplace behavior and Scott berates him for doing so. "My job is to make the office fun," he says. "Your job is to make the office lame."
Because Michael Scott Really, Really Hates Toby
Scott also called Toby "the worst human being ever." Wonder how he'd feel about the HR rep's winter weather equivalent. The storm is certainly more aggressive.
Actually, Not Even Toby Would Like Toby Right Now
Yep, that's about right.
Storm Toby Closes In
Thus descends the sad, well-meant HR worker.
A "Thief Of Joy"
So this is how it feels to agree with Michael Scott.
Degrassi Visits The Interstate 95 Corridor
Winter Storm Toby greeted us like Degrassi's Toby Isaacs greeted Drake's character Jimmy Brooks.
Toby The Tram Engine Makes An Appearance
Thomas is the most famous engine from the book and spinoff television series, but you might also remember this wise old brown tram.
Cue The Dramatic Music
The official This Is Us Twitter account retweeted this reference to Toby Damon, one of its major characters in the first season.
Killmonger Is Pissed
Toby's extreme weather is not only inconvenient, but also frustratingly ironic because it comes the day after the spring equinox. Wakanda is definitely a much more pleasant climate than the U.S. East Coast right now.
And So Is Lucy
That's one little girl you didn't want to mess with, Toby.
Winter ... Already Came
Spring was supposed to be coming at this point. We've been robbed, folks.
Say "Aye" If You're Done With This Mess
Although let's be real: These Breakfast Club students would probably be psyched to have another day off of school.
And Toby Keith Weighs In
The Weather Channel retweeted this post. Keith is a country singer-songwriter who has been releasing music for over two decades.
Other recent nor'easters — like "Quinn" — have also produced a flood of memes. If the snow continues to pelt the United States as March continues, we'll be facing "Uma," "Violet," and "Wilbur" next.