Missing & Murdered Indigenous Women Need Your Attention This International Women's Day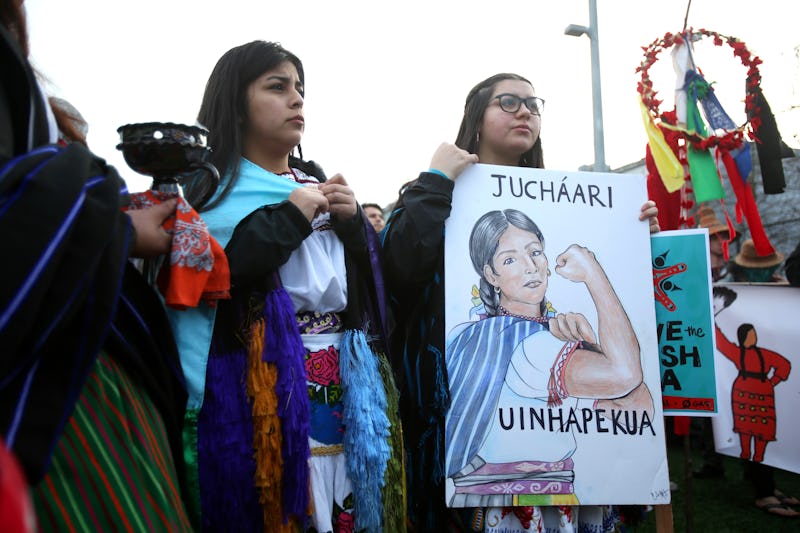 Karen Ducey/Getty Images News/Getty Images
In this op-ed, activist Christine Nobiss, Plains Cree/Salteaux, explains how the fight for environmental sovereignty is directly linked with the growing issue of Missing and Murdered Indigenous Women — and what you can do to help.
In the United States, there is an unaddressed crisis of epidemic proportions. Indigenous women, children, and men are assaulted, abused, murdered, and go missing at rates far above the national average. A National Institute of Justice study reported that 56 percent of Native American and Alaskan Native women have experienced sexual violence, and 90 percent of victims have experienced violence at the hands of a non-tribal member.
The statistics around missing and murdered indigenous women, however, are far harder to calculate. In 2016, The National Crime Information Center reported 5,712 missing Native American and Alaska Native women in the U.S., but experts say the actual number is higher, as cases are under-reported. In Canada, one report found that a little over 1,000 native women were murdered between 1980 and 2012, but activists have identified over 4,000 missing and/or murdered Indigenous women, according to the CBC. There is even a road in British Columbia called the "Highway of Tears" where over 40 Indigenous women have gone missing or been found murdered in the vicinity since 1969. Though First Nation communities are working tirelessly to address this issue, it has rarely an impact on those that live with privilege and power — and on International Women's Day, these missing and murdered Indigenous women deserve your attention.
The Lakota People's Law Project has stated that these statistics still underestimate the number of women affected by sexual violence, because the infrastructure for women to report and handle incidents is underfunded. Some grassroots experts have testified that the rate of sexual violence is closer to 80 or 90 percent in some communities, and more than 80 percent of sex crimes on reservations are perpetrated by non-Native men, a continued act of violence that has its roots in an imperialist agenda. These high numbers are partially due to the fact that tribal courts have not had jurisdiction to prosecute non-tribal members for many crimes like sexual assault and rape, which has provided impunity to many non-Native perpetrators. The Violence Against Women Act, and its reauthorization in 2013, provided "special domestic violence criminal jurisdiction to federally recognized tribes," according to the National Institute of Justice. Even so, "Federal authorities often decline to prosecute crimes that have been committed" on Native American land, as Vice reported in 2015. "This jurisdictional black hole has created a climate that many describe as 'open season' on Native women on reservations."
Many activists have been shedding light on the issue of increased violence in our territories due to "man camps," or temporary villages that house workers on fossil fuel lines. Not only are these camps responsible for building infrastructure that often puts local environments and sacred areas at risk, but their presence is linked to direct harm of our people. States like North Dakota have seen a rise in violent crime coincident with the oil boom. "These man camps become centers for drugs, violence, and the sex trafficking of women and girls," activists Mary Kathryn Nagle and Gloria Steinem, citing the First Nations Women's Alliance, wrote for the Boston Globe in 2016. "They also become launching pads for serial sexual predators who endanger females for miles around." It may not be obvious to non-Native people, but the health and safety of Native American people is directly linked to the health and safety of our land. Our Indigenous people's body sovereignty is entwined with the sovereignty of our First Nations.
The current administration is trying to dismantle the progress our Nations have made to protect our sovereignty, both over our land and over our bodies. During his election campaign, Trump's Native American Coalition stated that his presidency would work to minimize federal oversight and regulation through the privatization of reservations. It is estimated that Native American land holds about 30 percent of the nation's coal, 50 percent of potential uranium, and 20 percent of known oil and gas, according to a report compiled by the Property and Environment Research Center. If this administration deregulates federal control on reservations, it could undo 100 years of policy-making that has led to self-determination and healing for Native people.
Beyond their intentions for our land, this administration announced last year that it would make cuts to the Department of Justice — threatening the Violence Against Women Act, one of our most important safety nets. And though that funding cut did not occur for 2019, the Office on Violence Against Women has been without a leader since Trump took office in 2016. As Sue Davis, writing for the Worker's World, stated recently, "Will the 2013 reauthorization of the 1996 Violence Against Women Act, which extended the act to increase protections for LGBTQ survivors as well as Native women, remain after Trump nominates a [...] OVAW director?" Many people think it's less than likely.
To preserve VAWA, we need to support groups like The National Indigenous Women's Resource Center, Inc., and their VAWA Sovereignty Initiative, which focuses on the "defense of the constitutionality and functionality of all Violence Against Women Act tribal provisions." Such an initiative falls in line with the bill proposed by North Dakota Senator Heidi Heitcamp called "Savanna's Act," named for Spirit Lake Tribe member Savanna Greywind, 22, who disappeared from her apartment when she was eight months pregnant and was found murdered. Groups like Seeding Sovereignty are working to end the epidemic of MMIW by promoting community-owned renewable energy, and encouraging people to contact their representatives on legislation like Savanna's Act.
Such egregious acts should never happen again. It is why Indigenous people need to be heard loud and clear when we talk about how sovereignty is key to our well-being. Our stories about colonial violence and environmental destruction are key to moving forward in the fight to stop the systematic destruction of our environment. This International Women's Day, please listen.
Please visit us at www.seedingsovereignty.org to learn how we are working to end this epidemic.