This 2015 Michael Cohen Tweet About Hillary Clinton Is Coming Back To Bite Him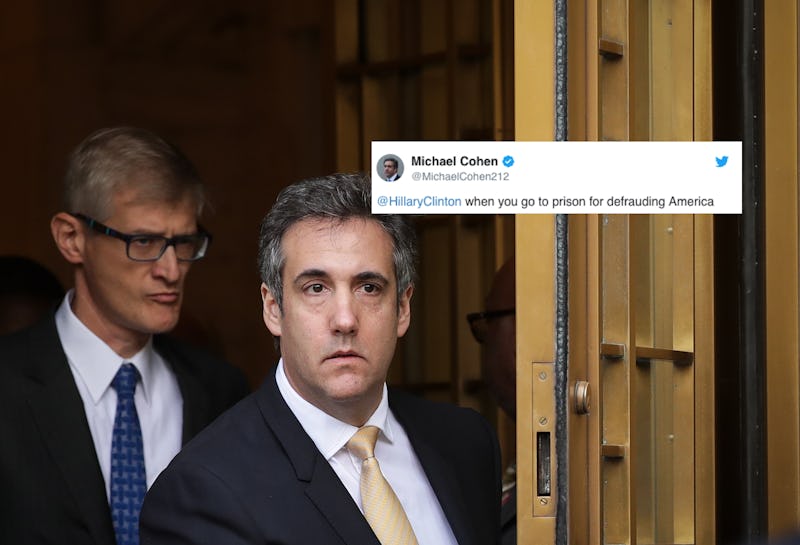 Drew Angerer/Getty Images News/Getty Images
After pleading guilty to several counts of tax evasion, bank fraud, and campaign finance violations, a 2015 Michael Cohen tweet on Hillary Clinton is circulating on Twitter given its particular irony. The tweet, which basically accuses Clinton of being a criminal, has resurfaced now that Cohen himself has pleaded to criminal acts. And since Twitter isn't exactly the most forgiving media platform, it's unsurprising that users are having a field day with this throwback.
In the 2015 tweet, Cohen wrote, "@HillaryClinton when you go to prison for defrauding America and perjury, your room and board will be free!"
Beneath his tweet, users have started to respond to him in the wake of his guilty plea. One user tweeted, "This did not age well."
Another user replied to that tweet, "Oh, I disagree. Time seems to have made it utterly delicious."
Lindsey Macnabb, a CNN producer, took the opportunity to point out the greater context of Cohen's guilty plea, tweeting, "trump rally crowd chants of hillary clinton: "lock her up"...three hours ago, former trump campaign chairman paul manafort was found guilty on eight counts and former trump lawyer michael cohen pleaded guilty to eight counts (and implicates the president)"
Clinton hasn't yet commented on the 2015 throwback, and it's possible she won't at all. The former secretary of state has recently thrown all of her effort into helping Democrats win the 2018 midterms.
To Bustle, Clinton said of her new strategy to "fight like a Republican,"
"Just as I'm working here today to try to make sure we're prepared to do everything we can in November, there are thousands of people on the other side who are doing the same. And they're good [at what they do]. You've got to make the comparison that they are so determined to try to keep this administration in power, to keep a Republican Congress. Even though I think the energy is on our side, we have to translate that into a very strong electoral strategy."
Though Clinton seems unlikely to say much on the Cohen front, it seems inevitable that Trump will. Trump hasn't commented on Cohen's guilty plea yet, but his lawyer, Rudy Giuliani did say in a statement, "There is no allegation of any wrongdoing against the President in the government's charges against Mr. Cohen. It is clear that, as the prosecutor noted, Mr. Cohen's actions reflect a pattern of lies and dishonesty over a significant period of time."
Though one user did enjoy tweeting, "Lock HIM Up!" in response to Cohen's guilty plea on Aug. 21, he hasn't yet been charged with any actual jail time for his offenses. As for Trump, he too has continued to encourage the chants of "Lock her up!" at his rallies, despite the fact that he is now directly implicated in Cohen's indictment, labeled as "Individual-1."
For now, Trump has not yet received any official summons or indictments for himself, though many are speculating that Cohen's guilty plea could lead to a presidential indictment.