The Story Behind The Screaming Man In 'A Quiet Place' Is Actually So Moving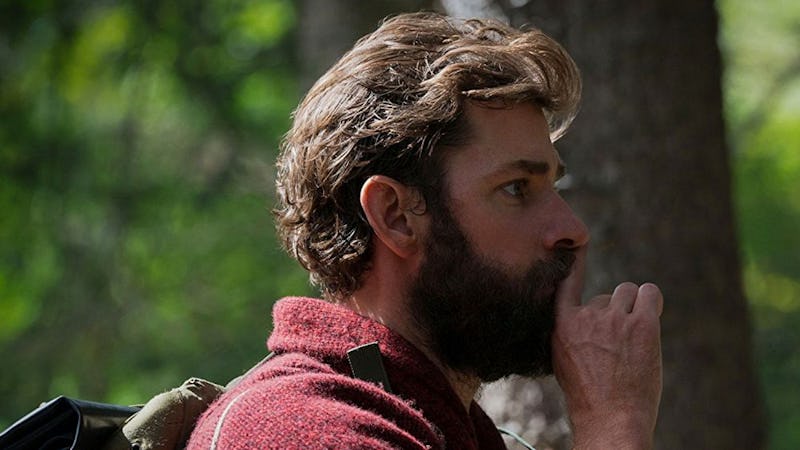 Paramount Pictures
A film that made each step, breath and twitch sound like a potential deadly explosion, A Quiet Place has become nothing less than a phenomenon. The movie, set in a dystopian future where aliens attack humans who don't stay silent, is one of the top 10 grossing films of 2018 and has a 95 percent score on Rotten Tomatoes. It's also one of the year's most meme-able flicks for the hushed hypnosis it creates in theaters, but one of A Quiet Place's most memorable moments is actually one of its loudest. When a character known as "Man in the Woods" releases a catatonic scream in one scene, it's a game-changer for John Krasinski and Noah Jupe's terrified characters. Yet while little is said in the movie itself about the screaming man in A Quiet Place, the story behind his scene is actually quite poignant.
"It was always about a man who's staring at blackness, at a horror that he can't contain and the only way he can react to it is to kill himself, so he has to force himself to scream," explains Leon Russom, the actor behind the holler, when we chat over the phone. "This man is in such a state that he can't really deal with anybody else's feelings. He's just completely destroyed by guilt and grief... he can't bear it anymore. He can't bear the loss of his wife and the horror that's going on around him."
Russom shares how he worked alongside A Quiet Place director and star John Krasinski to make the Man in the Woods' moment feel so powerful, even in such a brief scene. "[John] kept making sure that I made it about me, about what was happening to me, and that I do nothing at all in response to the two of them," explains Russom, referring to the characters played by Krasinski and 13-year-old Jupe. "This man is past concern for anyone other [than himself] — I mean he's just so lost."
For Russom, getting into the mental state of someone who has lost all hope and sees suicide as his only option was difficult, but Krasinski was a major help. "He's an actor, so he empathetically knows what you're up to. And he knows what he needs when he gets into the editing room," says Russom. "So, between those two things, it was mostly about us sort of going, 'OK, then. Let's try it another away. Now, let's try it another way.'"
On set, Russom adds, Krasinski would "put on his actor's hat, then he'd put on his writer's hat, then he could put on his director's hat with such ease" that it was clear to the actor that "something really good was gonna come of" A Quiet Place (out now on Digital and available on Blu-ray and DVD July 10). Adds Russom, "I knew that I was working with a serious filmmaker who had thought it all out as much as you can think it out in advance and that gives you, as an actor, a great sort of cushion... you feel comfortable because you know you're in the hands of somebody who knows what they're doing."
Like many fans of A Quiet Place, Russom admires the movie's focus on humanity despite a terrifying backdrop, as well as the lack of any "false moments" in its storytelling. "There aren't any unneeded moments," Russom explains. "[Krasinski] focused so strongly on the bonding of a family and how they have their own problems even with all of this going on, and it was just so human to me."
And getting a deep, complicated story behind the Man in the Woods' unforgettable scream just adds to that realness. "As one of my friends said who saw it, 'It should be that you're heartbroken for him but you're also terrified. You should be both.' And I hope that works. I got the feeling that it does," says Russom of his scene. Millions of scared viewers would agree that yes, it absolutely does.