This Albino Woman's Review of Fenty Beauty Foundation Proves Rihanna Got It Right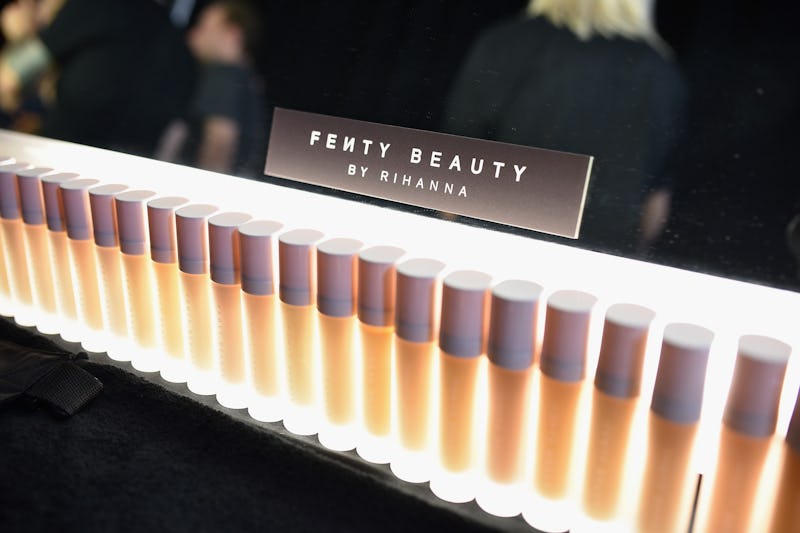 Bryan Bedder/Getty Images Entertainment/Getty Images
When word came out that Fenty Beauty would have 40 foundation shades, fans applauded the inclusivity. Many were excited that black women would finally have more options for foundation wear, given the multitude of deep tones in Rihanna's debut line. But the inclusive line of foundation is also helping those with extremely light skin get a high quality foundation in their shade — and this albino woman's review of the product proves it.
As PopSugar found, albino women are sharing their experiences with Pro Filt'r Foundation, and the results are stunning. This really is the future of inclusive beauty, as Rihanna once claimed.
According to countless YouTube reviews and Sephora comments, Fenty Beauty's Pro Filt'r Foundation is just as great as it seems. Although some claimed that the product oxidizes a tad bit, every other feature of the foundation — from finish to wear — has received glowing reviews.
Of the whopping 40 shades in Rihanna's Fenty Beauty line, there are reportedly three that will match different tones of albino skin. According to Frey Prevett, who lives with the inherited condition characterized by little or no melanin production, the foundation in shades 100, 110, and 120 all match pigment-less skin hues. If that's not incredible, I don't know what is.
"So I purchased this foundation this morning! I was super excited to see how [far] light and dark the shades went [in terms of range], although to be totally honest I was expecting the lightest shade to be even lighter just based off what I'd seen online (or maybe I am just genuinely super pale 😂)," Prevett wrote in her Facebook post. "I got the shade 100, which I believe is the lightest — 110 and 120 were very similar though and, if you have warmer undertones but are very pale, would be good."
Prevett isn't the only albino woman who has tested out the lightest shades of the foundation either. Krystal Robertson did a social media review of the foundation and found that it was the perfect match for her pale skin, too.
"It actually means the world that she not only made diverse shades for all women of color, but she brought us all together," Robertson said in a PopSugar interview. "When I was in Sephora all the women were doing their swatches and complimenting each other — all skin tones — and giving advice."
Robertson was also featured on Rihanna's Instagram story, as well, to share her experience with the foundation as an albino woman.
Although Rihanna never exclusively said that she created foundation specifically for albino skin, the star has said she wants Fenty Beauty to be inclusive of everyone.
"In every product, I was like, 'There needs to be something for a dark skin girl. There needs to be something for a really pale girl. There's needs to be something for someone in-between'," Rihanna said in a Fenty Beauty Instagram video. "You want people to appreciate the products and not feel like, 'Oh, it's cute, but it only looks good on her.'"
There are currently no reviews on how the highlighters, concealers, and other Fenty products work on albino skin, like the universal lip gloss that claims to compliment every skin tone.
When Rihanna said that she was releasing the new generation of beauty, she wasn't lying. It's safe to say that this inclusive and much-anticipated line was worth the two year wait.
Considering that this is only the beginning of Fenty Beauty, it will be interesting to see how the brand shapes the beauty world in the future. Hopefully the line encourages beauty brands to welcome all women into their lines, especially those who have been underserved by the makeup world for far too long.