Fenty Beauty's Massive Foundation Range Is Next Level Amazing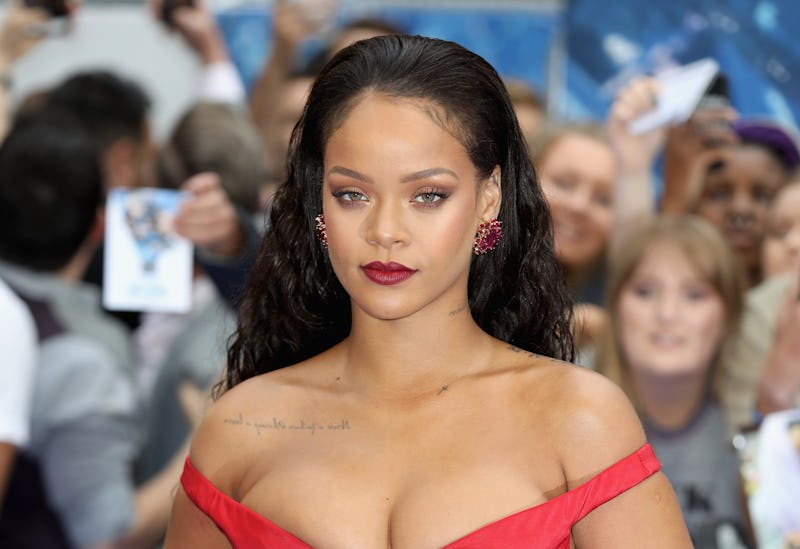 Tim P. Whitby/Getty Images Entertainment/Getty Images
Unless you've been living under a rock, you probably know that Rihanna's Fenty Beauty line is coming, and it's causing some serious (and well-deserved) Internet buzz. Not only was the first campaign for the brand incredibly diverse, but Rihanna has now explicitly stated that the Fenty Beauty foundation range will feature 40 different shades.
Basically, Rihanna is coming for every beauty brand with small, inadequate shade ranges — and fans are living for it.
In the lead up to the Sept. 8 launch, the talented artist teased everything from highlighters to lip glosses to foundations. It quickly became clear that Fenty Beauty's mission is to honor and celebrate women of color. It's a noble and needed cause in a beauty industry notorious for ignoring racial diversity and the needs of black women.
Now, thank to Instagram, fans now know that everyone will be able to rock Fenty Beauty. The brand's foundation — called Pro Filt'r — will feature a huge 40 shades. According to The Cut, Rihanna responded to a fan account that inquired about the 40 shade range rumor. Known for responding to fans' DMs, Rihanna confirmed the rumor was true, so get ready to shop.
Not only did Rihanna confirm the number of foundations in the line, but she also reaffirmed her commitment to celebrating racial diversity. The Fenty Beauty creator has clearly seen the need for more representation of women of color in the beauty world, and she's here to meet it.
The internet was quickly abuzz with the news, and fans were stoked.
Some immediately began to lament that other brands can't seem to do the same.
Of course, fans are going to get their fans on the foundation no matter what.
Come Sept. 8, Fenty Beauty's foundations will officially be up for grabs. If you want to get your hands on one of the 40 shades, grab your caffeine source of choice because the launch is set for 12 a.m PT/3 a.m. ET.
Fingers crossed that the stock is high.