Aubrey O'Day's Instagram Caption Has People Wondering If It's About Don Jr.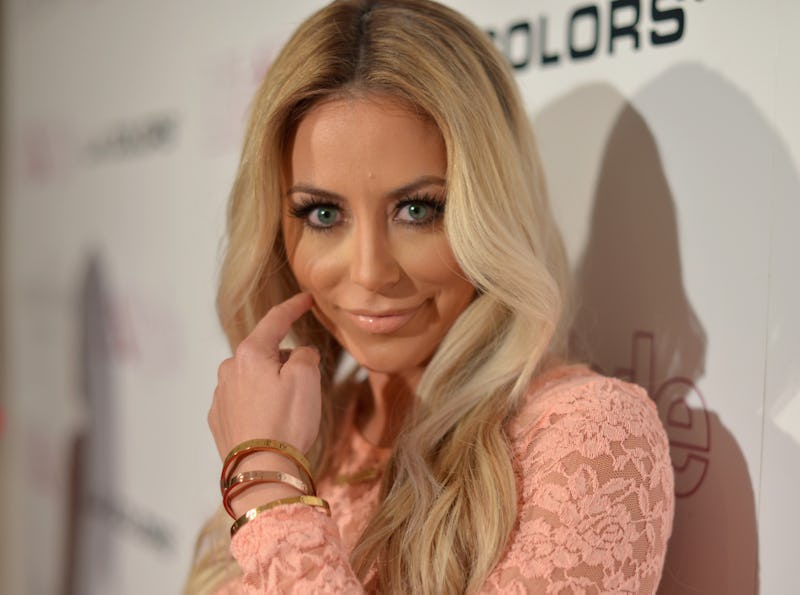 Charley Gallay/Getty Images Entertainment/Getty Images
Page Six reported on Monday that Donald Trump Jr., whose wife Vanessa recently filed for divorce, had an affair with former Danity Kane singer Aubrey O'Day. Neither of them have spoken publicly on the reports yet, which were later corroborated by Us Weekly. However, O'Day posted on Instagram the same afternoon the Trump Jr. report was published, and although it's a cryptic post, some people interpreted it as a reference to the president's son.
"I'm only interested in the things money can't buy," the former Apprentice contestant wrote on Monday under a picture of herself.
One could argue that this latest post isn't unusual. O'Day is prolific on Instagram — 890,000 followers and counting — and she regularly posts images of herself. And although she mostly uses her account to promote the various brands that have endorsed her, she does occasionally write vague, thought-provoking captions instead. In those senses, her most recent post isn't anything out of the ordinary.
And yet, given the timing of the post, the nature of the caption and the fact that Trump Jr. has a lot of money, many Instagram commenters wondered if maybe O'Day posted this with an eye on the news. (Neither O'Day nor Trump Jr. have commented on the reported affair.)
Many of those who commented on O'Day's Instagram post referenced their reported affair, and some appeared to be operating under the assumption that her caption was specifically referring to the president's son.
"Trump jr!!!???? YOU GO BISH!!!!!!!!!!!," wrote one supportive commenter.
"Hopefully you got whatever u could out of it!!," another follower said. "Get it gurl"
"Girl... I'm not mad at you at all," another supporter explained. "DT jr is hot!"
The comments section also featured many, many arguments about who deserves blame for the reported affair: O'Day, Trump Jr., neither, or both. Others interpreted the post as a swipe not at Trump Jr. but at Pauly D, the Jersey Shore star who O'Day once dated.
It's also worth noting that the image in question is subtly different from the rest of O'Day's feed: While her pictures often appear staged, complete with professional lighting and set designs, this most recent picture has a much more candid, spur-of-the-moment feel to it. It's the kind of selfie anybody might take of themselves in the hallway, complete with a cute photobomb by a nearby dog.
According to Page Six, Trump Jr. "fell for" O'Day when the two were filming The Celebrity Apprentice, on which O'Day was a contestant, in 2011. Sources told the newspaper that, although it was Trump Jr. who initially pursued O'Day, she "truly in love" with him, and the two saw each other occasionally when they were in the same city.
Page Six reports that Trump Jr. at one point told Vanessa that he planned to leave her for O'Day; at the time, Vanessa was pregnant with their third child. But when the elder Trump got wind of what young Trump was up to, he told his son to "knock it off," according to Page Six. One source told the paper that Trump Jr. was pressured by his family to stay with Vanessa; likewise, another source said that Vanessa considered leaving Trump Jr. over the alleged affair.
The two stayed together, though, and went on to have two more children. Vanessa filed for divorce on Thursday.
Although the Page Six report was only published on Monday, O'Day may have dropped some hints earlier about the alleged affair. On election night 2016, after it was clear that the senior Trump had won, O'Day tweeted that "my story I didn't tell is worth millions now" (She's since deleted that tweet).
In addition, in 2013, O'Day released what some have called a bitter love song called DJT. Many people on social media have interpreted the letters as Donald John Trump Jr's initials. Neither have commented on the rumors about the song.