This Odd Aubrey O'Day Tweet From 2016 Might've Hinted At The Alleged Don Jr. Affair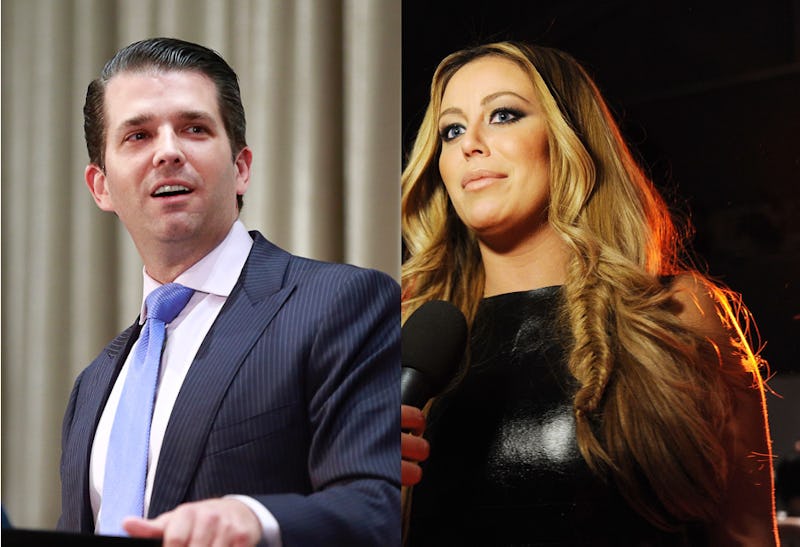 Jason Kempin/Getty Images Entertainment/Getty Images // Jeff Vinnick/Getty Images News/Getty Images
Last week, news emerged that Vanessa Trump filed for divorce from her husband of 12 years. Now, reports indicate that Donald Trump Jr. and Aubrey O'Day supposedly had an affair that began during the taping of season five of Celebrity Apprentice in 2011. And little did everyone know, a hint about the supposed affair could've been lurking on Twitter all along. Bustle has reached out to both Trump Jr. and O'Day for comment, but has not yet received a response.
O'Day is a singer and songwriter who first became well known after being chosen to be a part of the band Danity Kane on Making the Band 3. Us Weekly reported that a source close to O'Day said that the supposed affair reportedly began in 2011, when O'Day was a contestant on Celebrity Apprentice, and ended in March 2012. The outlet also reported that O'Day appeared to hint that she had a secret related to the Trumps in a tweet she wrote shortly after the 2016 presidential election.
According to Us Weekly, when Trump was elected, O'Day wrote (in a tweet that now appears to be deleted), "I'm embarrassed to be an American." Then, according to the magazine, in response to people asking why she didn't speak out against Trump when she was on Celebrity Apprentice, O'Day tweeted, "No. my story I didn't tell is worth millions now … this doesn't hurt me, it hurts America." The tweets have since been deleted.
In addition to her perhaps revelatory tweet, some are also speculating that O'Day may have written a song about Trump Jr. According to Jezebel, O'Day released a song in 2013 entitled "DJT" that appears to be about a relationship that did not end well. The publication points out that the letters could stand for anything, though they happen to be Trump Jr.'s initials.
Trump Jr. and his wife, Vanessa, announced their divorce last week. The Trump Organization shared a statement related to the couple's split on March 15:
After 12 years of marriage, we have decided to go our separate ways. We will always have tremendous respect for each other and our families. We have five beautiful children together and they remain our top priority. We ask for your privacy during this time.
Trump Jr. is not a part of his father's presidential administration. However, as the New York Times reported, he was highly involved in his father's 2016 campaign. The paper also reported that Trump Jr. has recently received a great deal of attention because he has been a focus of part of special counsel Robert Mueller's investigation into the alleged ties between the Trump campaign and Russia (ties which President Trump vehemently denies).
As the Times reported, Mueller has been looking into a June 2016 meeting held at Trump Tower between a Russian lawyer and members of the Trump campaign. According to the Times, Trump Jr. had allegedly agreed via email to the meeting after he was promised that the lawyer would provide him with sensitive information about then-presidential candidate Hillary Clinton.
During an opening statement delivered to some members of the Senate Judiciary Committee, Trump Jr. denied that any type of collusion with Russian officials occurred, saying, "I did not collude with any foreign government and do not know of anyone who did ..." He also indicated that he had been skeptical of the email he received in which it was reveled that someone had "official documents and information that would incriminate Hillary [Clinton] and her dealings with Russia." Trump Jr. noted that his "skepticism was justified" and that the meeting with the Russian lawyer "provided no meaningful information."
Trump Jr.'s meeting with the Russian lawyer received a great deal of public attention. Now, news of his impending divorce, as well as allegations of an affair with O'Day, have drawn further attention to the president's eldest son. The Trump administration has thus far not commented on the allegations, though many will likely be watching to see if it continues to remain mum on the issue.