The BSB & *NSYNC Rivalry Lives On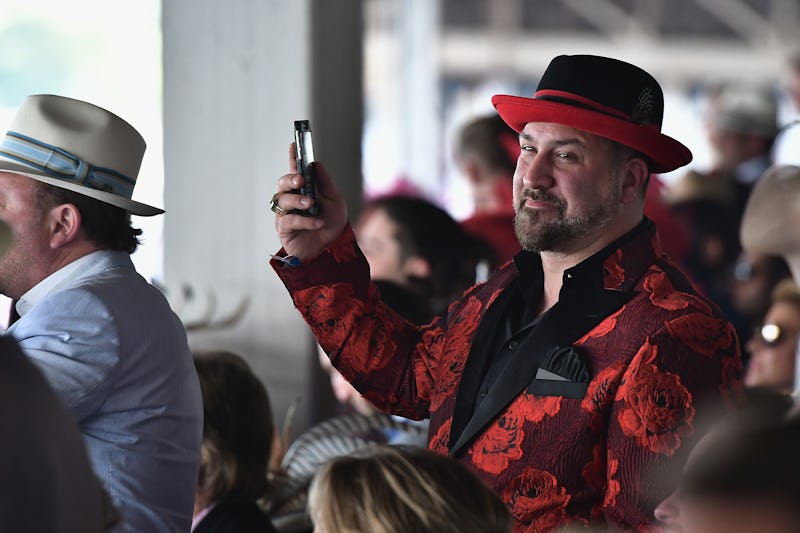 Gustavo Caballero/Getty Images Entertainment/Getty Images
Earlier this year, Dead 7 co-stars A.J. McLean and Joey Fatone sang "I Want It That Way" together to celebrate the latter's birthday, but do not think that means the rivalry between the Backstreet Boys and *NSYNC is a thing of the past. As Time pointed out, Fatone tweeted a photo of a BSB vs. *NSYNC tip jar situation that pays homage to the greatest boy band feud of the late '90s. And on a personal note, this tip jar situation is basically the Dead 7 sequel of my wildest dreams. Or maybe the prequel? Let's go with prequel.
Yeah, I realize Dead 7 is a post-apocalyptic zombie western. And yeah, I realize Fatone snapping a pic of gratuity receptacles at Los Angeles baked goods shop, Milk, is basically the opposite of a post-apocalyptic zombie western. But hey, it's Friday and I'm following my truth. And my truth has taken me to a zombie-organized boy band tip jar contest.
Before I get to the non-existent prequel, please take a long hard look at Fatone's photo of the tip jars. Specifically, the amount of bills in each cup. I love *NSYNC and all, but that empty BSB cup is just offensive.
Ready for my imaginary tip jar-inspired Dead 7 prequel? Here I go:
Some time before the Dead 7 zombie battle, a stranger rolls into an old west town inhabited by boy banders and sets up shop. Tucked in between a bar with a name like The I Spittooned It That Way Saloon and a mercantile called something along the lines of The Buy Buy Buy Haberdashery, Back From The Dead Baked Goods opens.
Unbeknownst to the the boy banders who roam the town, a zombie in a really believable human costume runs the new bakery. In an effort to take down the pop music stars who protect the town, the zombie decides to pit some of the boy banders against each other. "Divide, conquer, and consume," the zombie says as it fetches two empty mason jars from the back room. And then, it paints "BSB" onto one jar, "*NSYNC" on the other. The finishing touch: A small sign that reads, "Tip for your favorite boy band. Loser boy band has to skedaddle. Don't worry, 98 Degrees and O-Town. You're next."
What happens when someone tries to put a dollar in each jar, you wonder? The zombie banishes them from the bakery. And given how good the zombie's snickerdoodles are, being banished from the bakery is basically a fate worse than death. And that's just the pre-opening credits scene.
Thanks for letting me get that out of my system. I gotta say, I really worked up an appetite. I could go for one of Milk's Fruity Pebbles-coated ice cream sandwiches right about now. Or a zombie snickerdoodle. Either should get the job done.