This Single-Serving Brownie Recipe Is Perfect For When You Need Some Chocolate ASAP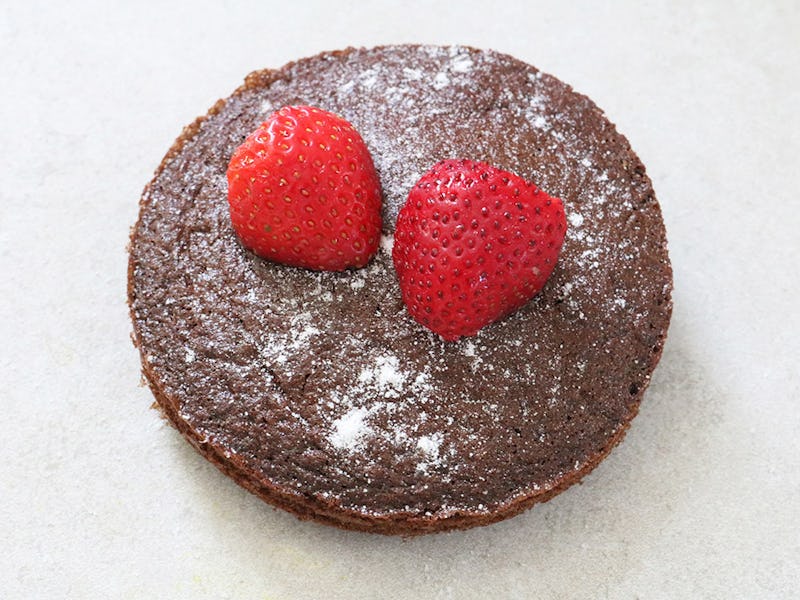 Kirsten Nunez/Bustle
Sure, you like to cook, but sometimes you want to bake just a single cupcake or whip up fajitas for one. Bustle's new series, Single Serving, dishes up your favorite recipes in the perfect portions for when your speed is less "entertaining my crew" and more "watching Netflix alone on my couch."
When dessert means more to you than most things in life, nothing is worse than tossing out stale brownies. Fortunately, thanks to this (low key genius) single-serving brownie recipe, it is possible to bake a brownie for just you when the insatiable craving for chocolate hits. You probably don't want to go through all the steps of making the perfect brownie recipe when you know most of your hard work is going to get thrown away anyway. Basically, making dessert for one is the ultimate kitchen hack.
Personally, I make this recipe when I want to beat the Monday blues. It only takes a few minutes of prep using ingredients you likely already have in your kitchen, and by the time your oven timer goes off, all that's left to do is dig into a rich, fudgy brownie perfectly sized for just you. There are some things in life that are just too good to share.
You can also feel free to customize this recipe however you want. You can add dried fruit, coconut flakes, or peanut butter to the batter. I love adding dark chocolate chips and chopped bananas. Plus, with this technique, you can have a different brownie each and every time. Go wild!
3 tablespoons packed brown sugar
1 tablespoon cocoa powder
2 tablespoons flour and baking soda mixture*
1 egg yolk
1/8 teaspoon white vinegar or lemon juice
1 teaspoon vanilla
1 tablespoon cold milk or water
2 tablespoons melted butter + extra for greasing
Optional: 2 to 3 tablespoons of nuts, dried fruit, raisins, chocolate chips, or whatever else you feel like trying.
* Combine one cup all-purpose flour and 3/4 teaspoon baking soda. Mix well and measure out two tablespoons. The rest can be stored in an air-tight jar for future brownies.
Only have baking powder on hand? You can combine one cup all-purpose flour and 1 & 1/2 teaspoons baking powder. However, leave out the white vinegar or lemon juice. The acid is used to activate the baking soda, but if you're using baking powder, you won't need it.
Another option is self-rising flour. Use two tablespoons as is, and skip the vinegar or lemon juice. Don't add baking soda or powder, because it's already got that covered.
1. Pre-heat the oven to 350 degrees Fahrenheit. Combine the dry ingredients in a bowl. Mix well.
2. In a separate bowl, mix the wet ingredients together.
3. Add the wet ingredients to dry. Mix 'em up.
4. Continue mixing until the batter becomes wonderfully gooey. Get rid of as many lumps as possible. At this point, add extra ingredients like nuts, raisins, or dried fruit.
5. With butter (or oil), grease a small baking pan or Pyrex container. The one I used measures just 4 & 1/2 inches wide. It's the perfect size for a one-person brownie.
6. Add the batter.
7. Bake for 15 to 20 minutes, or until a fork comes out clean.
Finally, do a happy dance, because you just made a brownie for one.
If you'd like, add a sprinkle of powdered sugar, cinnamon, or pumpkin spice. Top things off with berries or chocolate chips. You can also pair it with ice cream, peanut butter, or all of the above.
Oh. Yeah. You have an adorable, delicious brownie all to yourself.