This Campaign Against DeVos' Title IX Plan Urges Students To Return Her "ShIXtty Gift"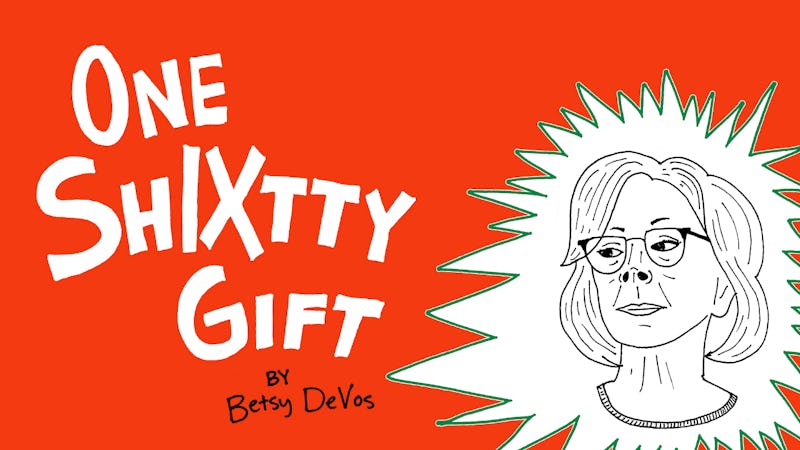 Illustration by Jen Miller
In November, Secretary of Education Betsy DeVos proposed controversial revisions to rules dictating how universities investigate sexual misconduct claims under Title IX. Now, an innovative campaign against DeVos' Title IX plan is encouraging students to take action. It's On Us Executive Director Tracey Vitchers writes via email that the organization launched the campaign because students need to " ... know that they have the right to speak out against the rules."
It's On Us is an advocacy organization dedicated to ending sexual assault through grassroots organizing initiatives. With the help of Mekanism, the Creative Alliance, and actress Alyssa Milano, it recently launched the "one shIXtty gift" campaign to help put a stop to DeVos' new rules. The campaign characterizes DeVos' proposed rollback of sexual assault protections under Title IX as "one shIXtty [holiday] gift" — and urges college students across the country to "return" this gift to the education secretary.
As part of the campaign, It's On Us is sending college students hard copies of DeVos' proposed changes, wrapped up in a gift-like package. Vitchers writes that mailing students a physical copy of DeVos' revisions puts the impact these changes could have into perspective. "Rules and regulations ... can sometimes feel very distant," she explains to Bustle via email. "By sending students the actual proposed rule changes to Title IX, we're hoping they can see how only a small stack of paper can alter their very ability to be safe on campus."
The package also comes with a gift receipt and return instructions that explain how to submit a public comment on the proposed rule changes. Though the "gifts" were sent to students who opted in to receiving them, there's still time to get involved. All you have to do is submit a comment on the proposed rules via the campaign's website. Then, it will become part of the official public record.
And, in case you were wondering, there's a strategy behind the campaign's holiday theme. "The timing of the rule changes ... feels oddly intentional" Vitchers writes. "They came at a time when most students are rightfully busy with finals or gearing up to head home for the holidays."
The campaign's holiday theme not only gets students' attention, it also makes it possible for them to incorporate activism into seasonal festivities. "We're hoping students will follow our lead and hold ugly holiday sweater themed comment writing parties as part of their study breaks," Vitchers adds.
If you need a refresher on what DeVos' proposed Title IX rule changes mean — and how you can take action — Milano's version of Twas the Night Before Christmas lays it all out. "Betsy wrapped her ideas and set off in her sleigh. One sh*tty gift for her, she, and they. But the good news is that, unlike many gifts that are sh*t, this one comes with a way to return it." the actress asserts.
Generally, as the Washington Post reported, DeVos' proposed Title IX changes narrow the scope of sexual misconduct cases that schools must investigate. They also offer more protections to those accused of sexual misconduct. "We believe that many of the rule changes related to campus-led investigations are intentionally positioned to dissuade or prevent survivors from reporting," Vitchers explains via email.
The public comment period during which students (and others) can share their thoughts on DeVos' proposed revisions is open through Jan. 28, 2019. DeVos is required to review and consider public comments prior to making her changes final. In the meantime, Vitchers has her own message for the education secretary. "I hope you're checking your mail Betsy," she writes. "This is #OneShIXttyGift we'll be sending back."