Watch Tyra Banks Bring A Little 'ANTM' Catwalk To 'Carpool Karaoke'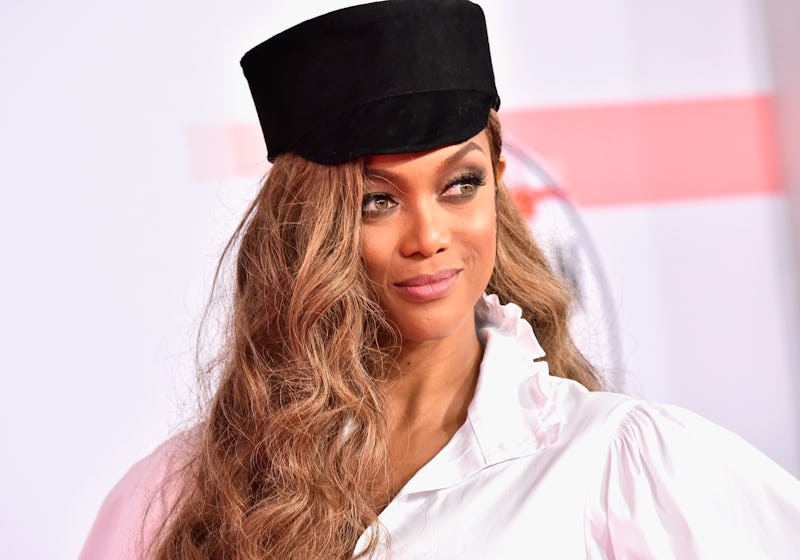 Frazer Harrison/Getty Images Entertainment/Getty Images
A new episode of The Late Late Show's Apple TV series version of Carpool Karaoke, premiering Friday, Nov. 16, pairs Tyra Banks with Lil Yachty, and it looks like they're in for a very fun musical ride. This new Carpool Karaoke clip shows Tyra Banks giving a catwalk lesson to Lil Yachty, proving that she's the official queen of the runway, and the most glamorous Carpool Karaoke guest ever.
The lighthearted skit features the former supermodel-turned-entrepreneur and rapper in what appears to be an open parking lot. Banks opens the discussion by expressing her excitement at taking part in Carpool Karaoke. "How cool is this that we're doing this together? Haven't you been watching this show forever?" she asks Yachty. Banks then proceeds, questioning, "What do you see between that car and us?" They both look ahead at a paved parking lot with a lone car in the distance, and slightly confused by what Banks is hinting at, Yachty innocently responds, "Concrete."
"You may see concrete, but I see a runway," Banks says as she explains her vision. "Anything can become a runway, Yachty... watch and learn," she continues while beginning to showcase her signature model walk, complete with dramatic hair flips and all.
After making her way down the runway, Banks calls the 21-year-old out, saying, "Your turn, Yachty," while pointing in his direction. Joining Banks in the competition, Yachty apprehensively begins his walk only to be interrupted by a vehicle working on set. Banks then, tells him, "We gotta work on that." However, it seems that he's ready to calls it quits, saying, "Let's just get in the car."
Although he may not have his catwalk moves perfected, Yachty actually has some pretty major experience in the modeling world. He's walked the runway for Kayne West's Yeezy clothing line and has also appeared in ads for Nautica and Urban Outfitters. However, it goes without saying there's absolutely no one more qualified to school the Atlanta-born emcee, given Banks' storied history in the world of modeling. She's been in the industry since she was a teenager and was one of the busiest working models of all time
As the creator and judge of America's Next Top Model, Banks certainly knows a thing or two about showing someone how to strut their stuff down the catwalk. After a brief hiatus from the series, which has been on since 2003, Banks returned to ANTM for Cycle 24 in 2018 at the urging of her fans. Though she served as an executive producer for 2016's Cycle 23, many felt that the series just wasn't the same without her. Of her return to series, Banks told E! News, "You know, I thought that I would be gone and be gone forever. However, I have very large ears…and I really was listening to social media."
Banks' appearance on Carpool Karaoke comes just a couple of weeks before the premiere of her highly anticipated sequel to Life Size, which comes a full 18 years after the original was released. The Life Size 2 premiere date will debut as part of Freeform's annual 25 Days of Christmas programming, with its first airing coming on Saturday, Dec. 2.
As a model, TV personality, and businesswoman, Tyra Banks' Carpool Karaoke skit proves that no matter the project, she's bringing a little ANTM with her.
This article was originally published on