This Cheesy Scalloped Potatoes Recipe For One Person Makes The Ultimate Dinner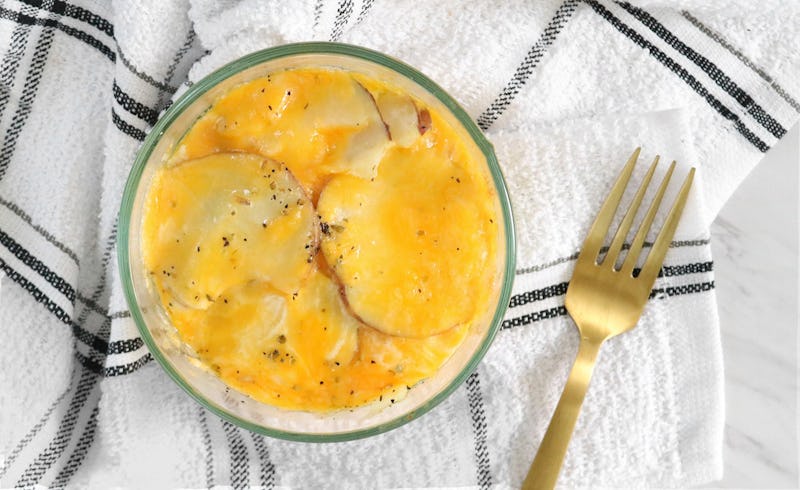 Kirsten Nunez
The world of food wouldn't be complete without scalloped potatoes. They're a creamy, rich dish that's literally just cheese and carbs — what more could anyone want? However, most recipes detail how to make the meal for more than one person, which can make trying to make them for yourself a little difficult. So, for all of us out there who want to cook for themselves and not end up with tons and tons of leftovers, I created this cheesy scalloped potatoes recipe for one person. Yes, you read that right.
Sure, you can always make the stuff from the box — but now that you are an actual adult, don't you deserve a real, hearty meal? Besides, making a small batch of scalloped potatoes has its perks: If you are the type to get sick of eating the same thing day after day, this single serving recipe won't leave you with leftovers or less space in your fridge for another potato/cheese shopping trip. It's also especially useful if you travel often or aren't home very much, because you don't have to worry about food going bad.
Regardless of your situation, this will surely become one of your new favorite potato recipes. The small (and adorable) size makes it awesome for experimenting, too. Here's how to make it yourself.
Scalloped Potatoes For One Person
2 small potatoes
3/4 cup shredded cheddar cheese
1/4 cup heavy cream or milk
1 teaspoon minced garlic
1/2 tablespoon butter
Chives (optional)
Chopped ham (optional)
Pre-heat the oven to 325 degrees Fahrenheit.
1. If you'd like, peel the potatoes. Cut each one into thin slices.
2. Fill a small pot with enough water to cover all of the potatoes. Bring to a boil, lower to a simmer, and add the potatoes. Cook for five to seven minutes or until soft.
3. Meanwhile, dice the butter into small pieces.
4. Toss the cooked potatoes with cheddar cheese, heavy cream, and butter. If using chopped ham or chives, mix them in now. Transfer everything to a small oven-safe container.
If you'd like, season with salt, pepper, and other spices.
5. Bake for 10 to 12 minutes or until the cheese is melted and bubbly.
How ridiculously easy was that?
Since this recipe is super simple, you can customize it based on whatever ingredients you have on hand (or need to use up). And while there are countless possibilities, here are some ideas to get you started:
Meat
Chopped ham is a classic addition, but don't limit yourself. That leftover rotisserie chicken or pepperoni can seriously take this dish up a notch.
Different Cheeses
Don't hold yourself back when it comes to the cheese, too. Feel free to combine multiple types of cheeses, such as Gruyere or Parmesan.
Sour Cream
I'm salivating already. Top off this scalloped potatoes recipe with a spoonful of sour cream. This would work extremely well if you use cheddar cheese.
It's the little things in life, my friends.
Check out more Single Serving recipe ideas here for when your speed is less "entertaining my crew" and more "watching Netflix alone on my couch."