'Chilling Adventures Of Sabrina' Just Teased A New Season With A Straight Up Bop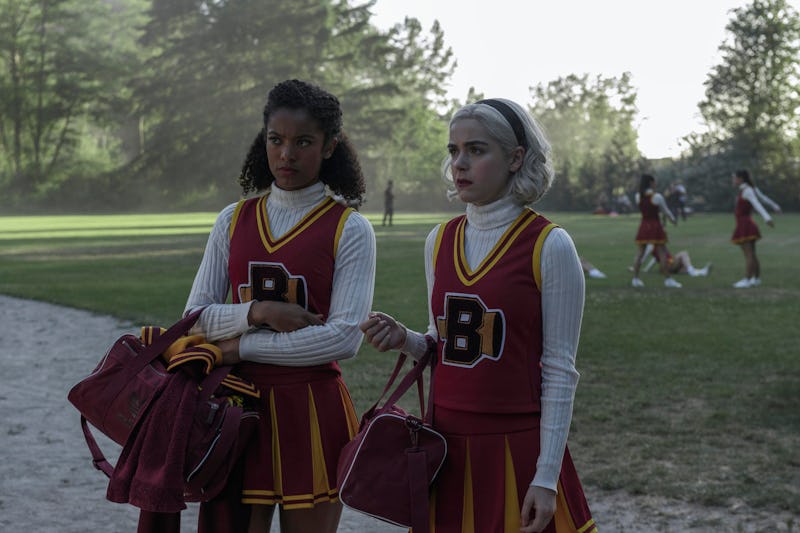 Courtesy Netflix
Everyone is heading straight to hell when the Church of Night returns to Netflix. The newest Chilling Adventures of Sabrina Part 3 trailer teased a brand new villain for Sabrina and her friends to face down when they arrive at the Gates of Hell. And not only is the clip a glimpse of what's to come in the new episodes, it's also a campy music video featuring star Kiernan Shipka singing and dancing about being "a bad, bad witch."
In between shots of the cast dancing and posing in front of a background of Satanic symbols and flames, the "Straight To Hell" video contains new footage of the upcoming episodes, including the devilishly handsome Prince Caliban (Sam Corlett). According to Netflix's official summary, Caliban will be the newest sexy villain in town. The new season will find Sabrina and the rest of the "Fright Club" journeying down into the underworld in order to save Nick (Gavin Leatherwood) while also attempting to prevent Caliban from becoming the new leader of the Church of Night.
While few details about Caliban have been released thus far, he could potentially cause some problems for the Spellman women as they all find themselves reeling from the events of Season 2. Zelda (Miranda Otto) helped to "unseat" the Dark Lord as head of the coven and now finds herself dealing with another demon. Meanwhile, it seems like Nick may have changed quite a bit during his time in Hell, which could spell disaster for the pair's relationship. (After all, that demonic growling in the video isn't something anyone would want to see from their boyfriend.)
Of course, the new season of Sabrina won't be all doom and gloom — just like the goofy music video suggests, Season 3 will also have its fair share of fun, upbeat moments. "It's very fun. It's very fun. It's dangerous, but it's really fun," creator Roberto Aguirre-Sacasa told The Wrap back in August. In another interview with TVLine, Aguirre-Sacasa compared the journey that Sabrina and the "Fright Club" — which consists of Harvey (Ross Lynch), Roz (Jaz Sinclair) and Theo (Lachlan Watson) — to The Wizard of Oz.
"Sabrina's a pretty tough cookie. It doesn't take her long to figure out there's a back door to Hell," he explained of the season, which picks up about a month after the events of Season 2. "So the Fright Club goes on an epic quest to rescue Nick that is not dissimilar to a horror version of The Wizard of Oz."
And despite the promise of a "handsome young man who turns the witches' heads," Aguirre-Sacasa teased that the biggest threat to Nick and Sabrina's romance might just be her ex, Harvey. "It's funny, I love both those guys," he told The Wrap. "I love Gavin and I love Ross. I think probably, I ship both couples. I have a soft spot for Harvey because he's Sabrina's longtime boyfriend in the comic books, but I cannot deny that Sabrina and Nick are a great, potent match. So yes, there is reason to hope for Harvey and Sabrina shippers. But Sabrina and Nick are pretty undeniable."
Fans will get to meet Prince Caliban — and see whether or not Sabrina really can save Nick and their romance — when Season 3 of The Chilling Adventures of Sabrina arrives on Netflix on January 24. Hopefully, the road to hell isn't too bumpy this time of year.