This Recipe Makes A Single Chocolate Chip Cookie, Which Is Perfect If You Hate Sharing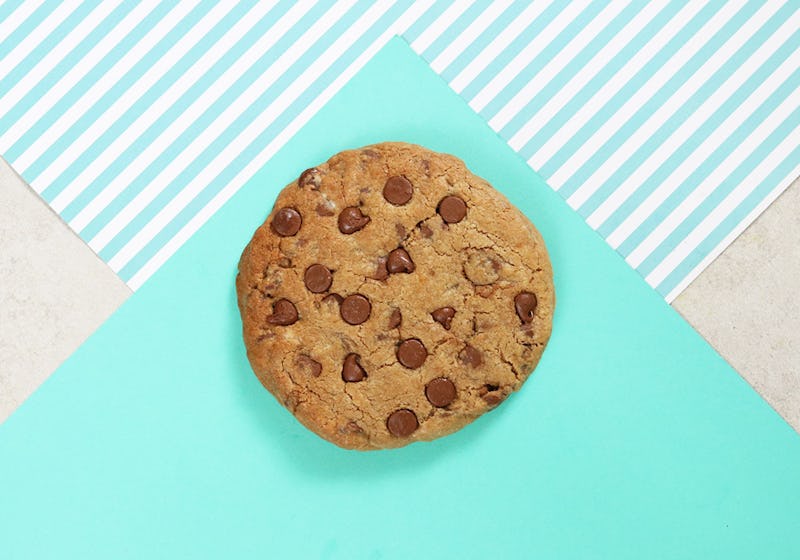 Kirsten Nunez
Sure, you like to cook, but sometimes you want to bake just a single cupcake or whip up fajitas for one. Bustle's new series, Single Serving, dishes up your favorite recipes in the perfect portions for when your speed is less "entertaining my crew" and more "watching Netflix alone on my couch."
You know that feeling when your sweet tooth acts up, but it doesn't make sense to make a whole batch of cookies? You don't always have an entire squad to feed, after all. Well, go ahead and heat up your oven, because this chocolate chip cookie recipe for one is exactly what you need when you are in the mood for a treat, but don't want to spend all day baking. With the right proportion of ingredients, you can easily make a single chocolate chip cookie from scratch that you don't have to share with anyone. Plus, in a couple days, you won't be left with a pile of stale cookies. Dreams really do come true.
This recipe also makes it easy to experiment with interesting chocolate chip cookie ingredients. Throw in coconut flakes, raisins, or a dollop of peanut butter. If you are in the mood for an autumn treat, add some pumpkin puree and a sprinkling of cinnamon. Double the recipe if you think you'll want seconds. Whatever you're craving, just do you. This recipe doesn't have to be a crowdpleaser, just a you-pleaser.
The whole thing only takes a few minutes to prep, and once you complete this amazing concoction, you will be left with a five-inch chocolate chip cookie... all to yourself. It doesn't get better than that.
1 tablespoon egg *
2 tablespoons melted unsalted butter, room temperature **
1/3 cup all-purpose flour
1/8 teaspoon baking soda
Sprinkling of salt
1/4 teaspoon vanilla extract
3 tablespoons dark brown sugar
1/4 cup dark chocolate chips (plus a few extra)
Optional: 2 to 3 tablespoons of additional ingredients like raisins, nuts, coconut shavings, peanut butter cups, pumpkin puree, or whatever else you feel like trying.
* Use liquid egg from the carton. Or, crack one egg and whisk until blended. Use just one tablespoon. The rest can be saved for tomorrow's breakfast sandwich, or another single cookie.
** Heat the butter for just a few seconds, or leave it out until it's close to melting. Give it a stir until it's basically liquid. Avoid heating it up too much, because if it's too warm, it will melt the beloved chocolate chips.
Pre-heat the oven to 350 degrees Fahrenheit.
1. Combine all of the ingredients in a small bowl. Want to customize your single cookie? Now is the time to do it. Add two or three tablespoons of extra ingredients like raisins, nuts, chopped fruit, or broken peanut butter cups. Feel free to mix and match. For some serious autumn vibes, bring in cinnamon, nutmeg, pumpkin pie spice, and pumpkin puree. Nut and seed butters can also be added.
2. Mix, mix, and mix some more. Make sure the ingredients are completely combined.
3. Eventually, you'll have a mound of cookie dough. Make sure to get every last bit; leave no dough behind.
4. With clean hands, roll the dough into a ball. Flatten it onto a greased baking sheet. Another option is to separate the dough into four or five smaller bite-sized cookies. The latter works best for dunking cookies in milk, if that's your thing.
If you'd like, you can also press a few more chocolate chips into the dough. Feel free to be super extra and add sprinkles, grated coconut, or more cinnamon. Heck, you can even add all of the above.
5. Bake for 15 minutes, or until golden brown. If you're a fan of softer cookies (or are really impatient), bake for 12 or 13 minutes. Either way, keep a close watch on the precious thing. It doesn't take long to bake.
And when you're done? You have a single-serving cookie all to yourself. Oh. Yes.
Guys, look at it.
Now that you have found The One, you'll never have to deal with stale cookies again.