This Cinnamon Roll Recipe For One Is Easy Enough To Make Every Day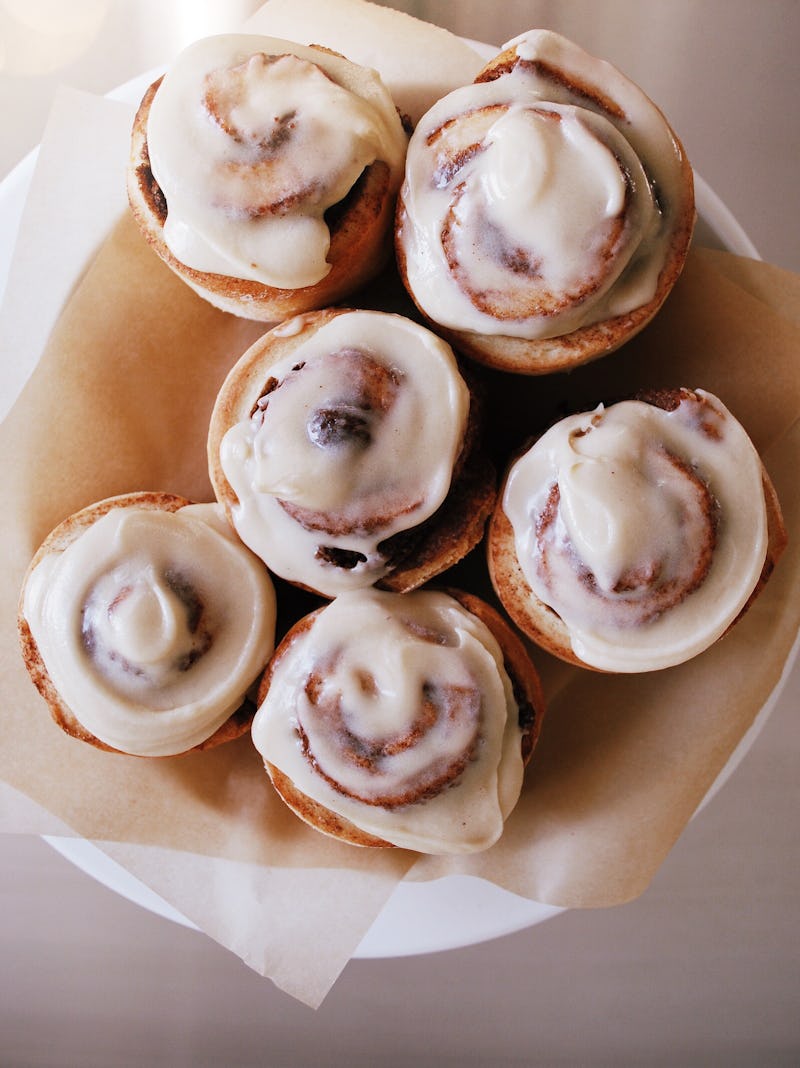 Sogoal Zolghadri/Bustle
During the holidays, there are few things that will inspire me to actually put on pants and leave the house. Top of the list? Fresh, just-out-of-the-oven cinnamon buns. Considering how complex and delicious they taste, it's easy to assume that actually making them yourself would be too difficult a task — best left to the pros at real bakeries — so actually going outside to purchase one (or three) makes sense. However, the recipe actually isn't that tough to pull off, even if you are a beginner in the kitchen; take this cinnamon roll recipe for one person that's specifically designed to yield just enough for one serving. They're rich, buttery, and best of all: don't require you wear true, adult person pants. Wins all around. Make this recipe, shut all the windows, and fill the house with the most decadent eau de pastry.
Don't let the yeast in this recipe dissuade you — there's no hours-long waiting time for these cinnamon rolls to rest and rise! Other quick cinnamon roll recipes withhold yeast which leads to a more biscuit-like consistency, but with this recipe, I was all about getting that pillow-y soft center where all that brown sugar amalgamates with the central, luxurious spire. So I went for a yeasted recipe. A not-scary, still-quick yeasted recipe.
The sweet and spiced filling is actually quite simple to customize should you feel like getting crazy. This recipe featured here includes just your standard brown sugar, cinnamon, and butter, but would also be amazing with other warming spices like allspice and cardamom. Add-ins like chocolate chips never hurt anyone either. Some nuts like pecans or slivered almonds would lend some fun texture, too! The whole recipe came together in about an hour. I've taken longer to make oatmeal, so this was welcomed surprise.
I was smitten with the cinnamon butter smell wafting through the house almost as much as the taste of the cinnamon buns themselves. Almost. I downed two of these treats in five minutes. Sans pants. Sans food court shame. And I wish the very same for you this holiday season.
Cinnamon Rolls For One
Adapted from Crazy for Crust
Prep Time: 1 hour
Yields: 6 small cinnamon rolls
DOUGH
1/2 cup warm water (hot bathwater-ish)
1 tablespoons sugar
1 tablespoons active dry yeast
1/2 teaspoon kosher salt
3 tablespoons butter, room temp
1 1/2 cups all-purpose flour
FILLING
3 tablespoons butter,
1 tablespoon all-purpose flour
3 tablespoons brown sugar
2 1/2 teaspoons cinnamon
1/2 teaspoon nutmeg
FROSTING
1 ounces cream cheese, room temp
1 tablespoons butter, melted
3/4 cup powdered sugar
1/2 teaspoon vanilla extract
Pinch of kosher salt
Splash of heavy cream or milk
Preheat oven to 400°F. Spray a cupcake or muffin tin with nonstick spray.
1. Place the water, sugar, and yeast in the bowl of a stand mixer fitted with the paddle attachment. Let the mixture rest for 15 minutes, during which time it'll froth up.
2. While you wait, prepare the filling. In a small bowl, stir butter, flour, brown sugar, cinnamon, and nutmeg together until a paste forms. Set aside.
3. In stand mixer bowl, mix in the salt and butter using the paddle, until the butter breaks up into the mixture.
4. Remove paddle, and replace with dough hook. Add the flour. Starting on low, slowly increase speed to medium low as flour begins to incorporate, about 30 seconds. Increase speed to medium until a ball of smooth dough forms, and you have a nearly clean bowl.
5. On a lightly floured surface, roll out dough to a rectangle that's roughly 9"×11".
6. Spoon filling in large dollops evenly across dough. Using back of spoon, spread all the way to edges in an even layer.
7. Beginning with a long side, roll the dough. Go slowly, keeping the roll fairly tight. Cut into 6 equal slices with a serrated knife. Place in prepared pan. Let rest for 5 minutes.
8. Bake for 15 minutes, checking for doneness around minute 13. Look for golden crusts.
9. While baking, prepare the frosting. Place cream cheese and melted butter in a small bowl and whisk together. Whisk in powdered sugar, vanilla extract, and salt. Add a splash of heavy cream or milk to loosen to your liking.
10. Frost cinnamon rolls once they've slightly cooled.
And that's it! Enjoy all six in one sitting because you deserve it.