This College Senior Launched An App To Promote #OwnVoices Books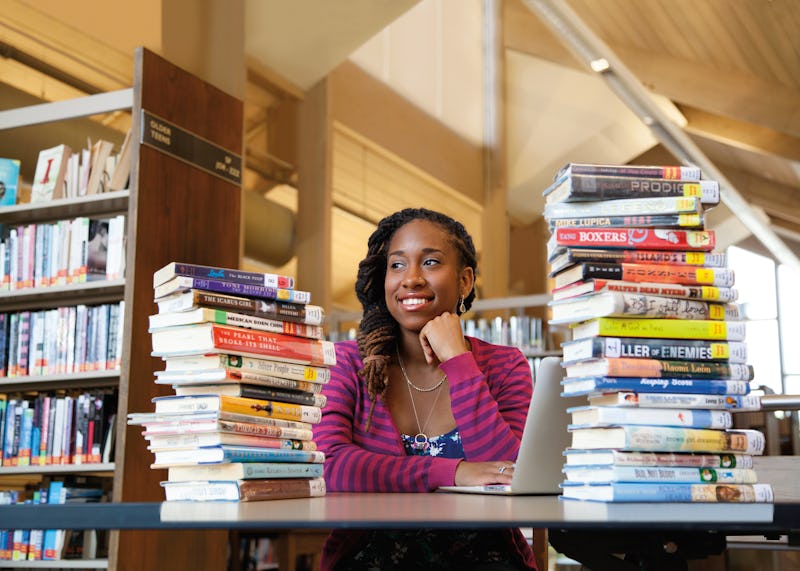 Courtesy of Kaya Thomas
Do you remember what you were doing as a college senior? Going to class. Studying a lot, maybe. Probably starting the ever-stressful job hunt. Almost certainly hanging out with friends as much as possible before everyone split up to move to different cities and towns. Well, Kaya Thomas is doing all of that and much, much more. She is the creator of the We Read Too project, an app she developed, designed and launched herself back in the summer of 2014. The app is, put simply, is a mobile directory of books with PoC main characters written by authors of color. Since it's launch, Thomas says, it has received over 15,000 downloads.
"I was inspired to create We Read Too because I've always loved reading but I felt a lack of representation in the characters that I was being exposed to," Thomas tells Bustle. "When I was teen it made me feel like stories about girls like me didn't matter or that no one cared to write them. I didn't realize that there were books that existed with characters like myself [and] I just wasn't exposed to them. I created We Read Too so other young people of color could be exposed to literature where they see themselves reflected, written by authors like them. Also, so that everyone can see that these stories exist and should be read [and] celebrated."
Now before graduating and moving to the Bay Area to work as an iOS developer for Slack, Thomas is hard at work on the IndieGoGo campaign she set up to get We Read Too to the next level. Thomas wants to use the money it raises to redesign the app, build an Android version, design a website, expand the directory of books to include adult fiction works and much more. But the main goal is always the same: the make finding and connecting with books by and about PoC easier and more fun.
Having already reached their initial fundraising goal of $10,000, Thomas says, "The most immediate next steps are releasing the Android version of the app. I'm also creating some new features that will make it easier to find the type of books you want and connect the books in the directory to other book apps you may use, like Goodreads. Long term, I am hoping to grow the directory so it has thousands of books and various genres."
With perks like signed copies of Angie Thomas's The Hate U Give, we can't imagine it should take too much longer to hit that $25,000 threshold. And for a woman who knows all too well the lack of reading resources for PoC, reaching that goal means even more.
"When I was a teen I mostly read what was available at my local library. The books there often didn't have characters that were young women of color. The few they did have were deemed "urban fiction" and often times just reflected one side of the black experience instead of showing how multi-faceted the black experience is," Thomas says.
With We Read Too, we're sure that Thomas is poised to revolutionize the reading experience for many teens to come.