This Scent Is Literally "That Old Book Smell" In Fragrance Form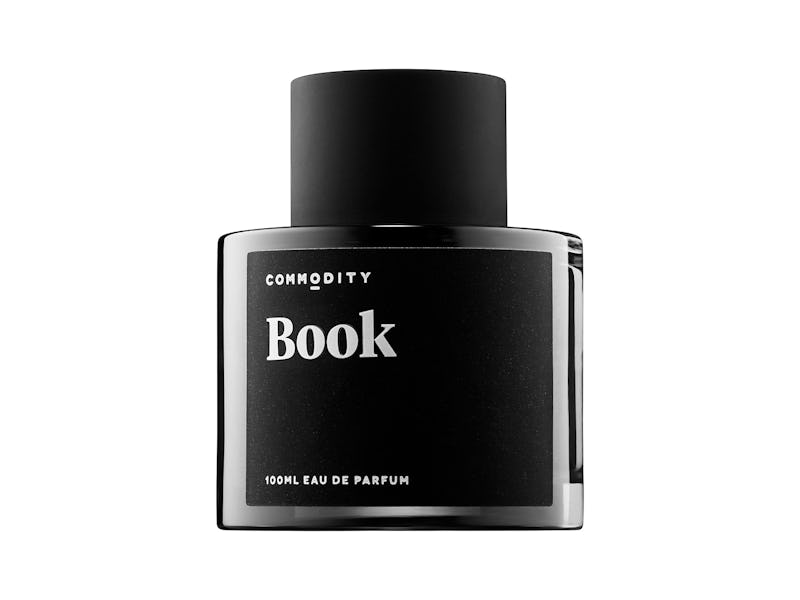 Sephora
The readers of the world know that we don't all agree on everything when it comes to living the best bookish lifestyle. Some love to reread, while others are all about the new. Some love to buy books, while others only borrow. We organize our shelves differently, we are obsessed with different genres...there really is no end to the amount of debate we can get into. But there is one aspect of book love that is widely revered: book smell. And if you have ever wished you could capture that scent and wear it all day long, you're in luck. Because Commodity's 'Book' cologne is that perfect old book smell in a bottle.
'Book' is a unisex scent that tips its hat to the Hemingways and Fitzgeralds and Austens and Angelous of the world by transporting the wearer right into that quiet moment of curling up with a really good book. Part of the brand's Black Collection, this scent includes notes that are complex, intense, and moody—ideal for those dark winter days that are on their way. The classic woodsy notes in 'Book' (Sandalwood, Bergamot, and Cypress) might not scream book right away, but the story behind the choices are definitely a bibliophile's dream.
Commodity 'Book' Cologne, $105, Sephora
Commodity perfumer Ketrin Leka is quoted on the Sephora website saying that she was inspired by her own childhood when it came time to craft the bookish scent.
"My most cherished moments are when I visit the New York Library to recapture the touch of reading an old-fashioned, bound paper book, turning the pages and breathing in the smell of dry paper mingling with the open, fresh air," she says.
Books and fresh, woodsy air? I can't think of a better scent than that. This cologne is the perfect luxurious treat to gift to any reader in your life for any special occasion...or to grab for yourself just because. Available in two sizes—the large 3.5 oz/100 ml and travel size 0.35 oz/10 ml—you can commit to keeping this one on your vanity for a while or test it out on the go. And if you've been looking for a stocking stuffer or other tiny item that isn't candy or some other throwaway, this scent is definitely it.
Commodity 'Book' Cologne, $26, Sephora
The other special thing about 'Book'? The Sandalwood used in it is Sandalwood Pacific—a sustainably sourced ingredient that is the result of a partnership between Commodity and the local Kanak community of New Caledonia. The sourcing is overseen the Forest Stewardship Council, which has stringent rules to protect sandalwood trees from near-extinction. So you can feel as good about buying this as you do smelling it.