Cory Booker Might Decide Whether He's Running For Prez Sooner Than You Think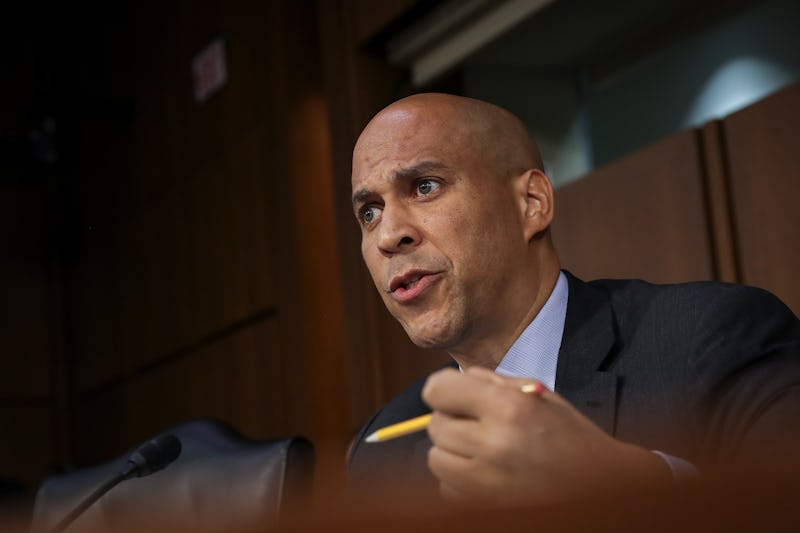 Drew Angerer/Getty Images News/Getty Images
The holidays will be a busy time for everyone, but especially the junior senator from New Jersey. The latest update on whether Cory Booker will run in 2020 reveals he'll make a decision pretty soon. "During the holidays I'm gonna sit down and take a lot of stock about what I want to do next, whether I want to run for president or stay in the Senate and help this continued movement in our country to reinvigorate our democracy," Booker told WMUR, the Manchester, N.H.-ABC affiliate.
Booker took numerous trips to New Hampshire — an early presidential primary state — during the 2018 midterm elections, but went back on Saturday for a series of appearances, speeches, and meetings with potential voters. "This country has enough hate, enough bigotry, enough anti-Semitism. What we need now is courageous actors who call to the conscience of our country a higher moral imagination, who call for a revival of civic grace," Booker told Democratic officials and activists in Manchester on Saturday, according to the New York Times.
The New Jersey Democrat talked about optimism and American potential when he sat down with local media outlets. Booker told WMUR that America is primed for big ideas.
"I think that this is a really painful, difficult point in American history. But it's often out of times like these that we've seen the greatest growth, the greatest advancement and more importantly the greatest re-imagining of America, to be the nation that is," Booker said. "We are the dreaming country, the country that dreams bolder and bigger things."
Raymond Buckley, the chairman of the New Hampshire Democrats, told the New York Times that Booker raised the most money for the state party and its down-ballot candidates. "He's the best friend New Hampshire Democrats had in 2018," Buckley said.
Retired New Hampshire state Senator Bette Lasky hosted Booker at a house party at her home in Nashua on Sunday, according to the New Hampshire Union Leader. "I want to thank you all for coming to our Hanukkah party. We truly appreciate it," Lasky told partygoers, according to the newspaper. "We have never had so many friends here before."
Lasky and her husband, Elliot, have hosted a number of Democratic hopefuls over the years. In 2007, the pair hosted former President Barack Obama when he was senator considering running for president. "We've never seen it as packed as this, and we've hosted quite a number of political people here," Elliot Lasky told WMUR.
This is the most concrete update Booker has given in recent months. In mid-November, Booker told Yahoo that he was considering running for president, but said he was also focused on his Senate reelection, which coincides with the presidential election in 2020.
New Hampshire isn't the only early presidential primary (or caucus) state that Booker has spent time courting. On Nov. 12, Politico reported that Booker is "personally calling potential staffers in states like Iowa, South Carolina, and New Hampshire, which all host early primaries or caucuses early in the nomination process. (You can read about the road to the presidential nominee here.) And on Nov. 21, CNBC reported that Booker met top presidential campaign strategists in Iowa in October while at the Iowa Democratic Party's annual fall party.