Daniel Ramirez Medina's Update For Dreamers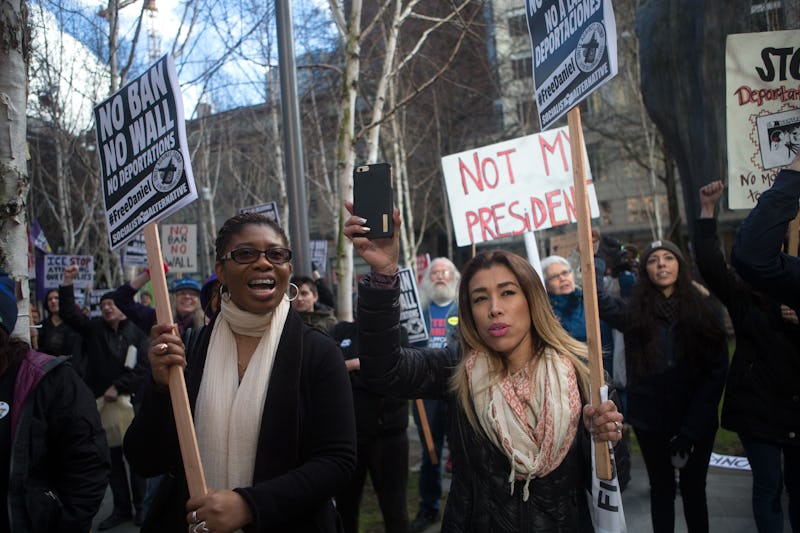 Karen Ducey/Getty Images News/Getty Images
It has already been more than two weeks since Dreamer Daniel Ramirez Medina was detained by Immigration and Customs Enforcement. The 23-year-old Seattle resident was arrested when ICE came to his house looking for someone else, but they took him too, despite the fact he's been awarded a special status under former President Obama's Deferred Action for Child Arrivals (DACA) program. Now the courts have taken up the issue, much is at stake — and not for just Ramirez but all DACA recipients.
On Sunday, BuzzFeed's Chris Geidner reported that Ramirez's lawyers argued in a U.S. district court filing that the government violated "his Fourth Amendment, due process, and equal protection rights" when they arrested him. His lawyers asked for a conditional release and pushed for a hearing on Tuesday, calling it "far from an ordinary case." The filing outlined why Ramirez's case is a more extreme departure from the typical practice and how his detention was base don inaccurate information, according to his attorneys:
First, Mr. Ramirez is a DACA holder — and thus considered lawfully present in the United States. He has not been convicted of, or charged with, any crime, but has already been in detention for over two weeks.And just recently, he was moved to a different part of the Northwest Detention Center, and is now being housed with dangerous criminals who are aware of widely-reported (but false) claims that Mr. Ramirez is affiliated with two different gangs. These facts put Mr. Ramirez's physical and psychological safety in danger.
Ramirez's was denied an earlier request for release on Feb. 17, when the court said an immigration court should hold a bond hearing. His lawyers also submitted a separate brief that argues the district court has jurisdiction in the matter.
Geidner reported the White House and senior officials have acknowledged that the case could have an impact on DACA recipients all over the country — not just Ramirez himself.
Ramirez's case also challenges the reputation the president has been trying to espouse for his immigration policies. Trump has shown relatively more sympathy for Dreamers than other categories of immigrants in the United States. "DACA is a very, very difficult subject for me, I will tell you. To me, it's one of the most difficult subjects I have," Trump said at a presser this month before acknowledging he had to convince more politicians to see it the same way. "To me, it's one of the most difficult subjects I have, because you have these incredible kids."
The Washington Post reported that immigration lawyers are urging young people not to enroll in DACA until it's clearer what the Trump Administration's stance will be. Homeland Security Secretary John F. Kelly released harsh new deportation guidelines last week, and while DACA was not undone, officers now have more discretion to deport undocumented immigrants.
For many Dreamers and immigration rights advocates, Ramirez's release would be a welcome signal to allay these fears, but there's no guarantee that will happen.