This Dream Job Will Pay You To Look After 55 Cats On A Gorgeous Greek Island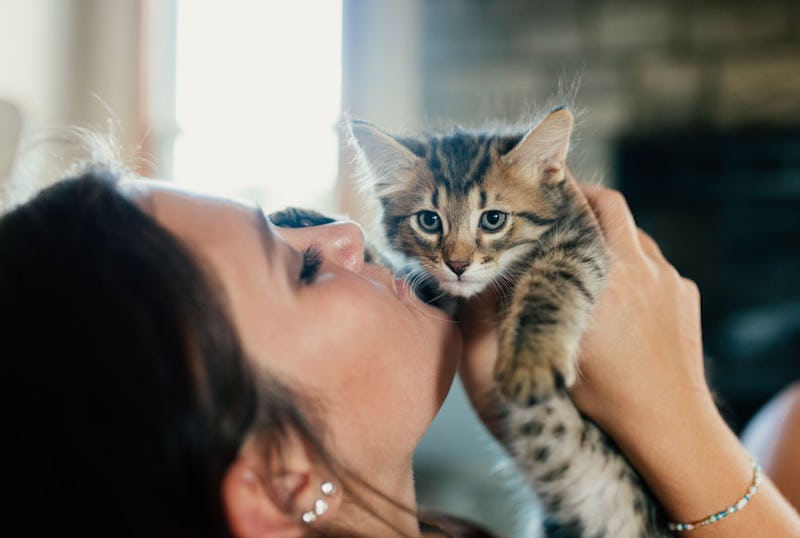 Melanie DeFazio/Stocksy
Wouldn't you just love to find a job on a tranquil island surrounded by the sun, sea, and lots and lots of animals? Well, now feline fans can because a cat lover's dream job is open for applications. Said vacancy is looking for someone to live on a beautiful Greek island, rent-free, to look after dozens of adorable little kitties. No, I'm not joking.
God's Little People Cat Rescue is run by Joan and Richard Bowell. Set on the gorgeous sun-drenched shores of Syros, the couple's sanctuary looks after around 55 cats and has saved many feline lives over the years. Due to other work commitments, the husband and wife are now having to move to New York and so are looking for someone to take over.
Posting a job advert on Facebook, Joan explained that they are looking for someone who would be willing to move to the island, live in their house, and look after all of the cats for around four hours a day. I'm more of a dog person but even I'm tempted to whizz over my CV.
If you're interested, your daily role would entail feeding and medicating all of the cats and potentially dealing with feral or "non-sociable" kitties. Meanwhile, all of your living costs (except for food) will be paid for and the job itself comes with a salary of up to €600 (£536) a month, reports the Telegraph.
The only requirements are that you like cats (obviously), can drive a manual car in the event of an emergency trip to the vet, and "are the type of person who appreciates nature and likes tranquility — and rest comfortably in your own company."
The couple said they have received 3,000 applications so far and have had to recruit a group of volunteers to help them whittle down the applicants. In the original advert, they said they would be holding Skype interviews at the end of August with the shortlisted candidates so you may still have time if this is your dream career path.
All you have to do is send some information about yourself and a photo to joanbowell@yahoo.com. Oh, and did I mention that the charming house comes with a clear view of the pristine Aegean sea?
Unfortunately, the role won't suit someone just looking for a short-term job. Budding cat whisperers will have to agree to work for a minimum of six months starting on November 1 (with a couple of weeks of volunteer work just before).
With more than 22,000 comments on the sanctuary's Facebook post, it seems like any applicant will have some stiff competition. As she's currently drowning in emails, Joan has urged people to only apply "if making life better for Greek rescue cats is [their] burning desire." She is also reminding people that the job comes with "heartbreak and feelings of hopelessness" so don't expect every day to be full of smiles.
Obviously, the sanctuary manager role has gone viral with many people looking to quit their office jobs and move to Greece for the ultimate idyllic lifestyle. And although Joan and Richard would prefer someone over the age of 45, there's no reason why a determined younger person wouldn't get the job.
In 2015, reports of an animal crisis in Greece hit headlines. According to the Mirror, the country's financial issues meant that people were abandoning their pets, only adding to the number of feral animals that lived on the streets. Sanctuaries like God's Little People Cat Rescue have sprung up all over the place but are still inundated with animals needing food, medical attention, and a loving home.
If you'd like to help the couple but can't quite leave your life in the good old UK, you can always donate a few pounds every now and then. Full details can be found on the sanctuary's Facebook page.
As for the lucky chosen one? Just know that I, and many others, will be very very jealous.