This 'Office' Easter Egg Will Completely Change The Way You Watch One Heartwarming Episode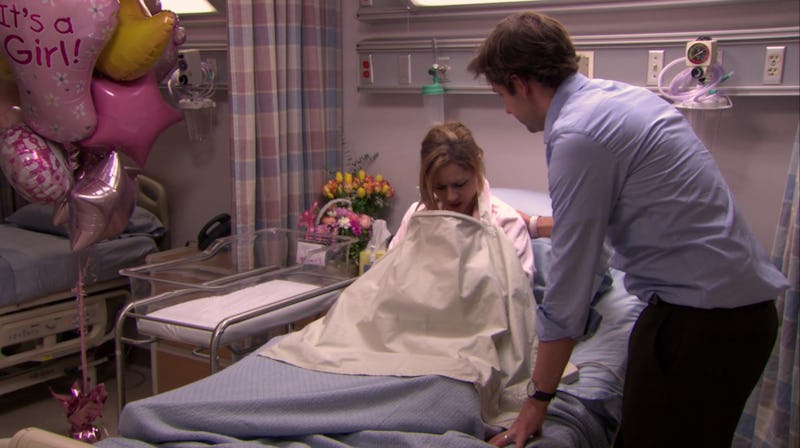 NBC
The Office is filled with countless iconic moments, and some of the most hilarious scenes of the entire run are featured in the Season 6 episodes "Delivery: Part 1" and "Delivery: Part 2", when Pam gives birth to her first child with Jim, Cecelia Halpert. But these particularly memorable moments become even more hilarious when you learn what was going on behind the scenes of the two-parter. And one fact about The Office episode "Delivery: Part 2" will change how you watch that episode forever. It makes the birth even more of a family event, especially for one of the actors.
Like most episodes of the show, "Delivery: Part 2" is both heartwarming and hilarious. There's that scene where Michael tries to enter Pam's birthing room with a bunch of balloons and is disturbed by what he witnesses ("I'm going to go wash my eyes" he says afterwards), but also a tender shot of Jim and Pam snuggling together with their new baby. One of the central plots of the episode is Pam's totally relatable struggle to properly breastfeed her new daughter, and, in true Office fashion, the show finds a way to make this everyday mom problem funny, sweet, and cringeworthy.
As fans might remember, things get particularly awkward when Pam becomes so frustrated with Cece's inability to latch that she calls in a lactation specialist to her hospital room. That specialist happens to be a man, and when he heads over to examine Pam and demonstrate to her how to best encourage her daughter to feed, touching her breast in an entirely professional way, Jim is less than comfortable with the situation. His discomfort is entirely unwarranted, since this is something Pam is really worried about, and the lactation specialist is just doing his job. But he keeps looking to the camera as if to say, "This is super weird." If you don't believe me, just look at his face:
The whole situation is signature Office comedy, but a fact recently reported by Buzzfeed makes the scene even more delightful. The actor who plays the lactation specialist is not just a professional hired for that job, but star Jenna Fischer's real life husband, Lee Kirk. So John Krasinski got to watch and pretend to be offended that his television wife's real husband was touching her breast in front of him. It's like, husband-inception, or something like that. Now that you know this fact, I dare you to watch that scene the same way again.
Fischer and Kirk were married in 2010 in a ceremony in Malibu, according to People. Many of their Office co-stars attended the ceremony, with Dwight Schrute actor Rainn Wilson tweeting of the event, "Went to the most beautiful wedding I've ever experienced. Total Love, Jenna Fischer & Lee Kirk!" The couple have two children together, though the baby who played Cece Halpert was not, in fact, their real child. (Though that would have cool.)
This scene was actually not the first time a real-life spouse of a cast member appeared on the show. Steve Carrell's wife, Nancy Carrell (formerly Nancy Walls) had a reoccurring role on the show as Carol Stills, Michael Scott's girlfriend who was entirely too grounded to date the erratic paper company manager for more than a few episodes. Knowing that the couple are married in real-life somehow makes their terrible onscreen breakup even funnier, just like knowing that Pam's lactation specialist was her real husband makes Jim's unfair indignation even more ludicrous.
Awkward childcare moments aside, Jim and Pam will live on forever as one of television's most iconic and beloved couples. And now, fans will be able to watch the arrival of the lactation specialist knowing that Fischer was sharing a scene with both of her husbands — on-screen and real life.