This Adorable Unicorn USB Fan Is A Must-Have For Your Office Desk This Summer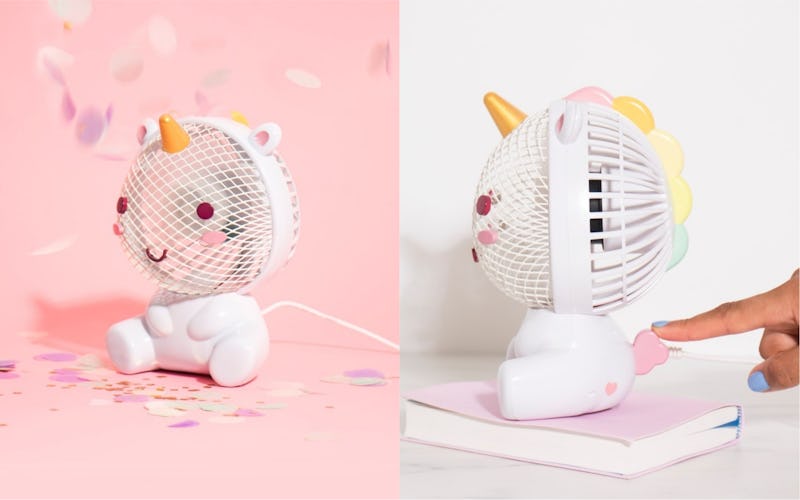 Firebox
Everything should be cute. Paint a smiley face on every household object and add glitter to every accessory. If my office supplies don't look like they was designed for a first grader, they belong in the garbage. OK, perhaps that's a little over-the-top. But, I have an affinity for all things adorable. It's pretty easy to recognize this by looking at all the trinkets I have, and twee blogs I follow. But the only way to improve on something adorable is to make it functional. So, naturally, when I first laid eyes on the Elodie the Unicorn USB fan, it immediately stole my heart.
Are you an ~adult~ who no longer has the luxury of a three month-long summer recess? Do you actually have to work during the period when students of every age enjoy three months of sun and surf? Now you can stave off those sweltering summer days with the help of Elodie, the penultimate mythical horned equine. Through the work of her magical powers? Not through the magic of wind energy. The Elodie fan is a fully functional desktop fan that works by plugging it into the USB adapter on your computer (or elsewhere).
The folks at UK-based retailer FIREBOX have an enthusiastic appreciation for unicorns. It's admirable, really. Who would have thought to make a miniature USB desk fan shaped like a unicorn? Not me, but I'm extremely glad they did. Some of the highlights of Elodie the USB Fan include her on/off switch that just happens to be her heart-shaped tail. Not to mention her face, which FIREBOX aptly likens to "an enchanted fencing mask." It maintains a clear unicorn visage while allowing breezes to escape. Plus, the bottom of the fan grips to most services, so as to avoid "magical journeys to the floor."
Elodie the Unicorn USB Fan, $40.09, FIREBOX
Like I said earlier, FIREBOX is your one-stop shop for all things unicorn-themed. if you're as entranced by Elodie as I am, you will definitely want to check out the rest of the retailer's collection.
Along the lines of the USB fan is the Elodie Humidifier (yes, humidifier) is similarly portable and compact, but allows you to fill your room with a cool mist of air — perfect for those if us whose sinuses are particularly sensitive to dryness. Where the Elodie Unicorn USB Fan is perfect for keeping your home comfy during the summer, the Elodie humidifier can do so during the winter. Plus it doubles as an essential oil diffuser, and changes colors like a soft mood lamp.
Elodie the Unicorn Humidifier, $53.49, FIREBOX
Other Elodie offerings include a planter, which makes the unicorn look like a rotund little Pokémon-esque creature when fitted with a plant. Bring some magic to your kitchen with an Elodie Ramen Bowl and TWO different styles of mugs.
Definitely one of the coolest aspects of every Elodie product is how much thought has so apparently gone into their designs. The Elodie Ramen Bowl is a two-piece set, with one bowl specifically intended to be a topper to keep your noodles warm. Plus it is sized to perfectly fit a block of ramen noodles without necessitating breakage. The Elodie the Unicorn Mug is microwave-safe, with the product description assuring, "Elodie loves a bit of radiation." FIREBOX checks the box for humor, as well as creativity.
The Elodie the Unicorn USB Desk fan retails for a little over $40, before shipping. The strange ~exact~ amount is because it is converted from British currency. But, having a little unicorn with rosy cheeks and a heart on its bum to keep you cool while you work? Priceless.