The Little Girl Who Loved Michelle Obama's Portrait Turned It Into A Halloween Costume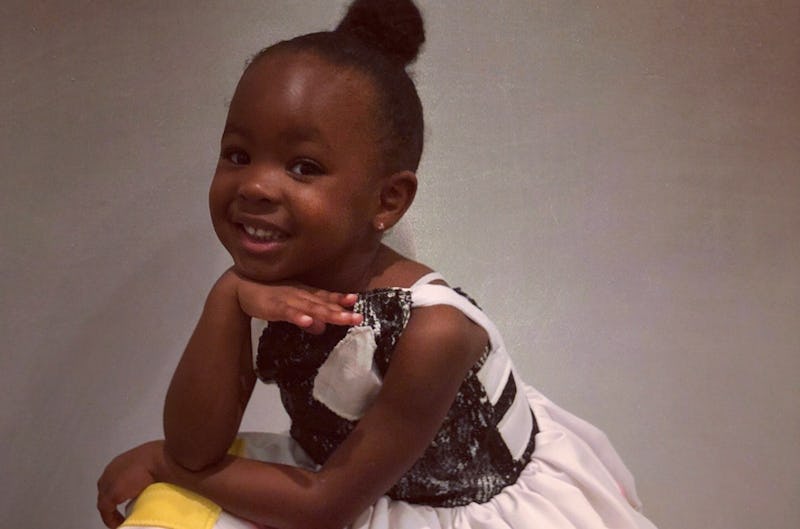 Photo courtesy of Jessica Curry
Parker Curry melted the nation's heart when a photo of her standing in awe of the former first lady's official portrait went viral in March, but she didn't stop there. The 3-year-old girl dressed as Michelle Obama's portrait for Halloween, as BuzzFeed News first reported, and once again brought pure joy to the internet.
"When we asked Parker what she wanted to be for Halloween she immediately said she wanted to be Michelle Obama," Parker's mom, Jessica, says in an email to Bustle. "She never wavered from that declaration despite asking her over the course of a few days. She didn't provide an explanation, but she was crystal clear that she wanted to be Michelle Obama for Halloween."
Parker's costume, which was a gift from Alisha Welsh of Magnolia Lake Children's Clothing, perfectly mimicked the Milly gown Obama wore in the portrait that now hangs in the National Portrait Gallery. It was handmade with Parker in mind, according to Jessica, and the 3-year-old wore it in a photo sitting in the exact same pose as Obama, complete with her chin resting on one hand.
"You nailed the look, Parker! I love it!!!!" Obama tweeted about her Halloween costume on Thursday morning. Parker got to meet Obama in March after the former FLOTUS saw the photo of the little girl staring at her portrait, and the duo had the world's cutest dance party.
"Parker, I'm so glad I had the chance to meet you today (and for the dance party)! Keep on dreaming big for yourself...and maybe one day I'll proudly look up at a portrait of you!" Obama tweeted after their dance off.
Jessica didn't expect the photo to blow up like it did — and she especially didn't foresee it landing her daughter a meeting with her idol.
"Who would have known that one unique photo would lead to the incredible opportunity to meet Michelle Obama and have a priceless dance party together. What a special moment!" she wrote on her blog, Happy Mama Happy Babies.
Jessica told BuzzFeed News back in March that Parker was "fascinated" by Obama's portrait when she saw it in person, so much so that she couldn't get Parker to turn around to take a picture. "She wouldn't cooperate. She just wanted to stare at it," Jessica said.
A month after she first encountered the portrait that inspired her Halloween costume, Parker hung out with Amy Sherald, the artist who painted the portrait of Obama, at the National Portrait Gallery. Sherald brought Parker colored pencils and a drawing pad to help inspire her own portraits. Like at her meeting with Obama, Parker also requested that she and Sherald have a dance party, Jessica wrote on her blog, as well as informed the artist that the National Portrait Gallery is actually the former first lady's castle.
Parker has already met more of her idols than most people do in a lifetime. And, obviously, the Halloween costume was a hit on Wednesday. As Jessica told CNN, "She got way too much candy."