There's A GoFundMe To Help Nia Wilson's Family & You Can Donate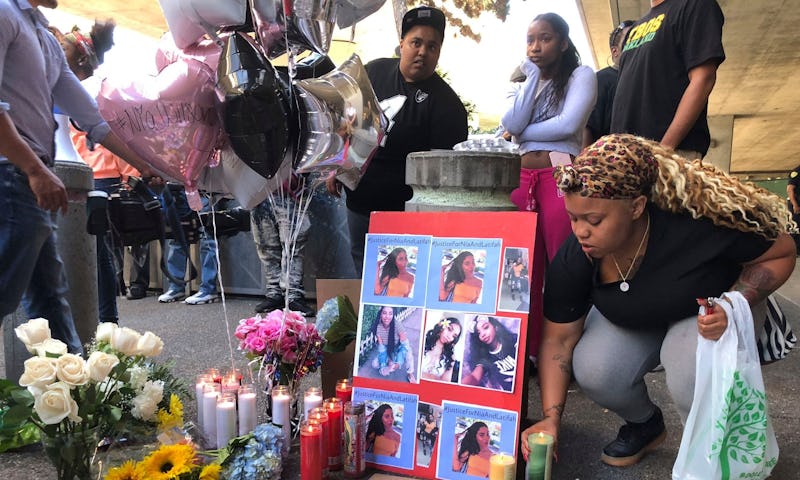 Lorin Eleni Gill/AP/Shutterstock
An 18-year-old African American teenager was brutally killed at a Bay Area Rapid Transit station platform on Sunday. As news about her death continues to spark outrage, you may be wondering how to help Nia Wilson's family. A GoFundMe page has been posted for the teenager's grieving family and has already raised over $30,000 for her loved ones.
Malika Harris, Wilson's sister, uploaded the GoFundMe page on Tuesday. "Nia was an 18-year-old young woman who was full of life, smart, and beautiful beyond words," she wrote on her post. "Nia loved to do makeup, hair, and get dolled up and enjoy life."
Harris wrote that Wilson was a kind person "who was in the wrong place at the wrong time." She added, "We just want justice for Nia. Please, for my family, thank you. Nia will be loved and missed by so many family and friends. Please let's end racism all over the world; Nia did not deserve this."
Harris' post has been shared on Facebook over 3,000 times, and hundreds of people have expressed their sympathy and solidarity with Wilson's family on the GoFundMe page.
According to Bay Area ABC 7, Wilson's attacker, a white man who also stabbed her sister Letifah Wilson at the same MacArthur Station on Sunday, was found on Monday. Letifah survived but authorities said Wilson succumbed to her injuries shortly after being violently stabbed. BART Police Chief Carlos Rojas told the press of the incident, "It was, in my close to 30 years of police experience, probably one of the most vicious attacks that I've seen." Officials said that there is no indication that the attacker was motivated by racial hatred.
As authorities investigate further, the teenager's family continues to seek justice. Wilson's father, Ansar Mohammed, told reporters, "That's my baby girl up there. I want justice for my daughter."
Wilson's harrowing death has caused significant uproar online and offline. On Twitter, social media users have called on people to #SayHerName so Wilson's identity isn't obscured or forgotten. The hashtag signifies a demand among activists to remember black women in the entirety of their identity — instead of becoming nameless casualties.
Activist Eunique Jones Gibson tweeted, "I wish I could #SayHerName because I discovered her magic and not because someone's hatred took it away. If you remembered Heather [Heyer], remember #NiaWilson. This has to stop." Gibson was referring to Heyer — a 32-year-old woman who was killed at a white nationalist rally in Charlottesville, Virginia, in August, 2017.
Offline, political figures like Oakland Mayor Libby Schaaf released a statement on the terrifying incident. Schaaf said, "Although investigators currently have no evidence to conclude that this tragedy was racially motivated or that the suspect was affiliated with any hate groups, the fact that his victims were both young African American women stirs deep pain and palpable fear in all of us who acknowledge the reality that our country still suffers from a tragic and deeply racist history."
It's an incident that has left Wilson's father unspeakably heartbroken. While talking to KTVU reporters, a tear-stricken Mohammed said that he received a "hysterical call" from his daughter begging him to come to the MacArthur Station. He said that when he arrived at the platform, he saw Wilson was lying dead "on a tarp." Mohammed added that he never imagined he would see his child in such a terrifying and fatal state.
"I want justice for my daughter," Mohammed said. "I want justice for my daughter. Please get me justice for my daughter ... This is a parent's worst nightmare."
For those who want to help Wilson's family, Harris' GoFundMe page is currently trending on the website and accepting donations.