This Golfer Clapped Back At Critics Saying Her Clothes Are "Too Sexy"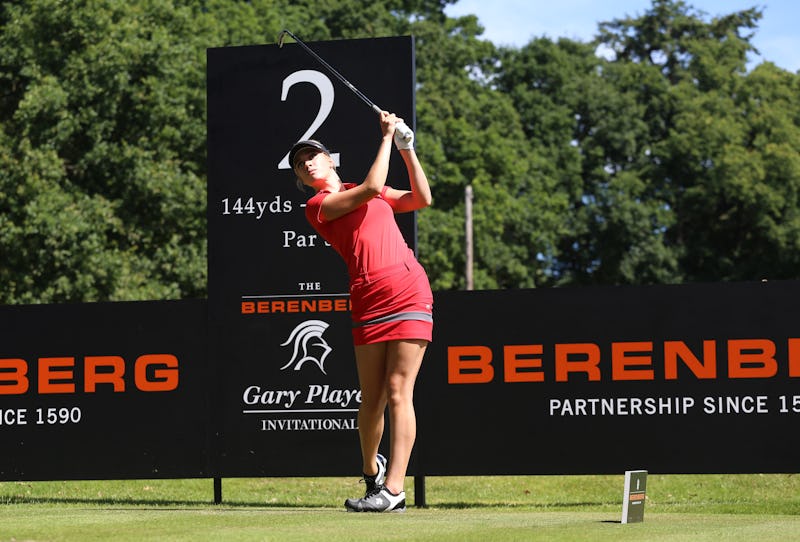 Julian Herbert/Getty Images Sport/Getty Images
In early July, the Ladies Professional Golf Association (LPGA) announced a new dress code for golfers on tour. Among the "No" items? "Plunging necklines" and short skirts. Paige Spiranac wasn't having it. The social media star and professional golfer clapped back at the dress code, arguing in a piece for Fortune that the new restrictions place antiquated gender stereotypes over the requirements of professional athletics.
The new LPGA dress code went into effect on July 17. Among the restrictions are a ban on "plunging necklines," leggings (unless worn under a skort or shorts), workout clothing, jeans, and joggers. Skirts, skorts, and shorts have to belong enough to cover the bum even when a player is bending over. Racerback shirts are allowed only with a collar (or "mock-collar). Heather Daly-Donofrio, the LPGA's chief communications and tour operations officer, said of the change to Golf Digest, "The dress code requires players to present themselves in a professional manner to reflect a positive image for the game."
Yesterday, Spiranac, a 23-year-old pro-golfer who boasts 1.1 million Instagram followers, spoke out against the new dress code in an article for Fortune. "[A]s both an ambassador for golf and an advocate for the continued progress of women's rights and equality in society, I fear that these new rules are stifling the growth of the women's game," she wrote.
Spiranac argued that golf clothing has necessarily changed over time, as the sport has become increasingly competitive and physically demanding. "Because of the increased physicality of the sport, golf apparel companies began incorporating more performance-based materials into their designs, as well as updating styles that had fallen out of fashion over the years," she wrote. "Restrictive tweed, knee-length skirts turned into flexible LYCRA skirts with built-in shorts. Thick cotton polos turned into sleeveless wicking tank tops with innovative, removable sun-guarding sleeves."
"[G]olfers need to be able to rotate, extend, crouch, and bend, often in extreme weather conditions for up to five or six hours at a time," Spiranac wrote. She expressed concerns that the new dress code may interfere with female players' ability to wear what best suits their physical needs.
Spiranac also identified a thornier problem: Body shaming. The new dress code, "perhaps unintentionally, singles out a certain body type," she wrote, pointing to the ambiguity of the term "plunging necklines." "What constitutes a plunging neckline?" she asked, continuing,
Most likely, this edict was put into place to eliminate the presence of cleavage. In that case, a curvier, fuller-figured woman would be chided and fined far more often than a woman with a smaller bust. In a world where women are continually and unwantedly sexualized, this new rule serves as yet another reason for women to feel ashamed of their bodies, and a reminder that to be respected, they must alter their behavior because of outside perception.
Spiranac, who often plays in formfitting clothing, has said that she has been slut-shamed in the past by other players. In a tweet defending her article, she said, "I wrote this as an outsider and from my experience of being a women who has been shamed by other players. I stand by what I wrote."