You Can Buy A 'Grinch'-Themed Gingerbread House At Walmart For $13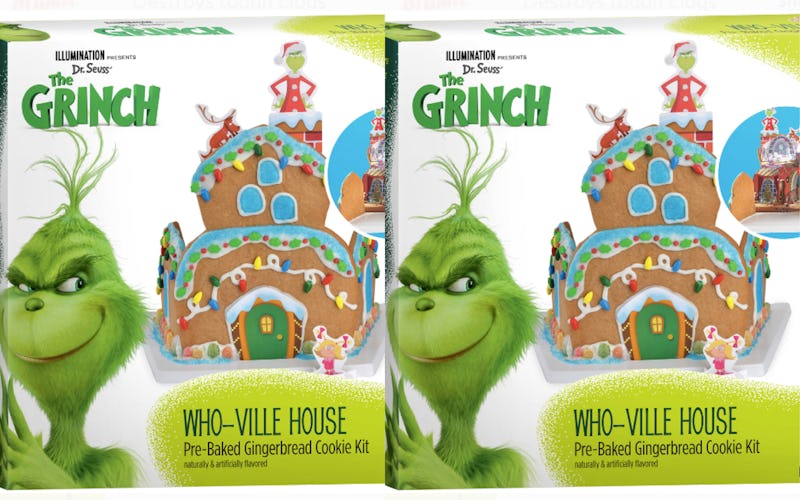 Walmart
Gingerbread houses allow you to indulge both your sweet tooth and your crafty side. According to PBS, the winter confection can be traced back to 16th century Germany. They rose to prominence rose after the Brothers Grimm wrote and released the story of Hansel and Gretel, in which the two child protagonists find a house made entirely of treats deep in the forest, occupied by a witch.
Nowadays, you can find any number of recipes for gingerbread online, but building a house is hard work. This year, consider Walmart's ode to a Christmas tale with its Grinch Gingerbread House kit.
The kit, which is technically called the Crafty Cooking Kits Grinch Whoville Gingerbread House Kit, comes packed with everything you could ever need to recreate an edible version of Cindy Lou Who's humble abode. The pre-baked gingerbread cookies can be modeled into a two-story structure. The included accessories allow you to personalize it with icing, and candies. Finish it off with small cutouts of the Grinch and his beloved dog, Max.
What makes this gingerbread house kit even more special is the secret it hides. Rather than the traditional four walls, this kit comes with three, leaving the back exposed. Included are graphics shaped like the cookies, ready to paste (with icing) on the backside of the base. So, when you turn your creation around, you have a glimpse into what the inside of the house would look like. It is modeled after the houses depicted in the film released earlier this month.
If you have a Grinch-loving cousin coming to visit for the holidays, there are countless ways to celebrate the green menace.
For a little over $12, you can snag Build-A-Bear's interpretation of the Young Grinch from the movie, which the retailer guarantees is sure to be a hit with "even the grouchiest names on your list this year." The stuffed animal (if you can call him that) is covered in neon green fur and foregoes his notable scowl for a "cute lil' smile." A deviation from the typical Build-A-Bear experience, the Young Grinch plush comes pre-stuffed.
Though, if you're looking for that interactive customer experience Build-A-Bear does so well, there is another Grinch you can snag and stuff in-store. Build-A-Bear is also offering a larger Grinch for $25. You can either walk in and purchase the shell, then stuff it there, or you can order the unstuffed shell (deflated furry friend) online to take into your local Build-A-Bear in store. The latter option requires more planning, but also guarantees you won't arrive only to find it is sold out. Once your new grouchy friend is stuffed, you can add any number of specially-made accessories, including Grinch Six-In-One Sayings sound box, a three-piece Santa Suit or #TeamGrinch hoodie. Santa hats and other festive accessories are also available.
With each year that passes, new ways to celebrate the season arise. In addition to your typical cottage-style gingerbread house this Christmas, consider also creating one modeled after 2018's biggest holiday movie. Dr. Seuss would approve.