This Harry Potter Activewear Line From BlackMilk Is Guaranteed To Add Some Magic To Your Workout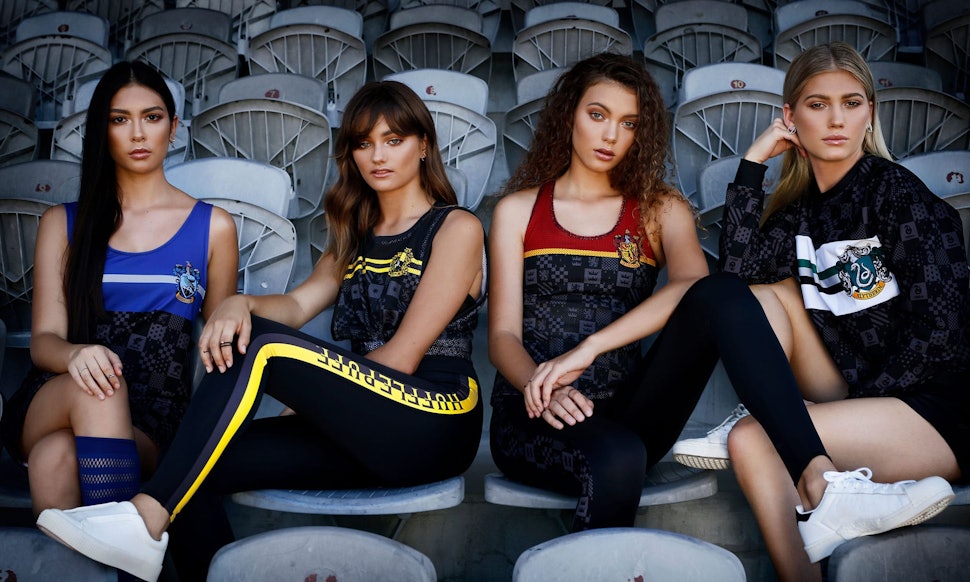 Courtesy of BlackMilk Clothing
Following up on the success of its first line of Harry Potter-themed attire, Australian designer BlackMilk Clothing has Harry Potter activewear for your next Quidditch tryout. The Brisbane-based company released a lookbook for its new "Team Hogwarts" line, and I have pictures of all the awesome pieces that you can wish for below.
"Team Hogwarts" features tees, tanks, sweatshirts, leggings, and dresses, all started at the low, low price of approximately $53.65 U.S. dollars. Each of the four Hogwarts houses has a complete set of these items available, so you won't have to worry about being able to find that ~perfect~ Slytherin dress for next year's Yule Ball.
BlackMilk's first Harry Potter line debuted this summer to predictably rave reviews, and many of those pieces are still available on the clothier's website. The company "has a licensing partnership with Warner Bros.," according to The Daily Mail, and has released Lord of the Rings and Batman merchandise since opening in 2009. At the time of this writing, BlackMilk Clothing has lines based on Labyrinth, DC Comics, and Marvel Comics available for purchase in its online-only store.
Because this is everyone's first question when they see a new dress: No, it does not look like any of BlackMilk's new Harry Potter dresses have pockets. But their leggings do! Wand pockets, at that.
Check out the awesome items available in BlackMilk Clothing's new line of Harry Potter activewear below, and share your favorite items with me on Twitter!
BlackMilk's Gryffindor Team
Gryffindor really knows how to show their stripes — racing stripes, that is. BlackMilk's new Gryffindor team is ready to fly, and I'm sure Madam Hooch is absolutely thrilled to see how quickly they have taken to their brooms.
BlackMilk's Ravenclaw Team
On the other side of the Quidditch pitch, those studious Ravenclaws are putting down their books to put up a fight for the Golden Snitch. Defined by their intelligence and originality, Ravenclaws love to try out new sports, like the Muggles' soccer and yoga.
BlackMilk's Hufflepuff Team
Hufflepuffs might prefer not to play against their friends, but this loyal and true Hogwarts house has great team synergy. They are unafraid to get their uniforms dirty, and their tenacity pays off on the pitch.
BlackMilk's Slytherin Team
Watch out for the Slytherin team. Their ambition drives them to do whatever it takes, and their cunning gives them all the resources they need to secure a win for their house.
BlackMilk Clothing's new Harry Potter activewear will be available for purchase at 4 p.m. ET on Dec. 18.