A Harry Potter Pasta Restaurant Just Opened In NYC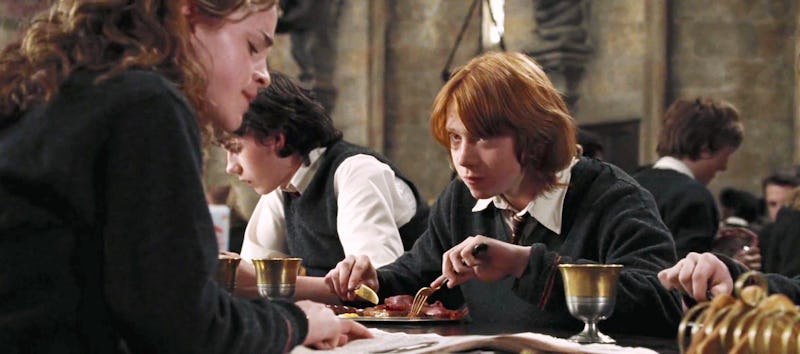 It seems like New York City just keeps adding awesome, geeky theme eatery. First there was The Golden Girls diner, Rue La Rue Café, and now there's Pasta Wiz: a Harry Potter restaurant that serves up custom noodles to hungry Brooklynites. If you're a NYC Potterhead, or are planning a trip to the city soon, you pretty much have to eat here.
Although its website claims that "the interior of the Pasta Wiz flagship resembles a wizard's enchanted lair," owner Alex Dimitrov tells Gothamist that the restaurant's design inspiration is a bit more specific, saying, "We decided Pasta Wiz, it's like a wizard magical place, so we've made it Harry Potter-style. We decorated in a Harry Potter-style [sic]."
Pasta Wiz's build-your-own-dinner concept will be familiar to anyone who has eaten at a chain restaurant in the last 15 years, but that doesn't mean the Harry Potter-themed eatery isn't original. "[T]he dish getting the most buzz at the moment," the website says, "is a low/no calorie, soy-free, gluten-free, cholesterol-free vegan shirataki noodle, made from the konjac yam in Japan."
Dimitrov spent several years seeking approval to open his Williamsburg restaurant, but had his licenses denied several times, after members of the Brooklyn community spoke up about the raucousness his other restaurant — an "immigrant embassy Balkan disco dive bar extravaganza" called Mehanata — had brought to the neighborhood. When he returned with the idea of a relatively simple pasta joint, no one believed he was serious.
Dimitrov says he has plans to open secondary Pasta Wiz locations if the angel of popularity blesses his flagship restaurant.